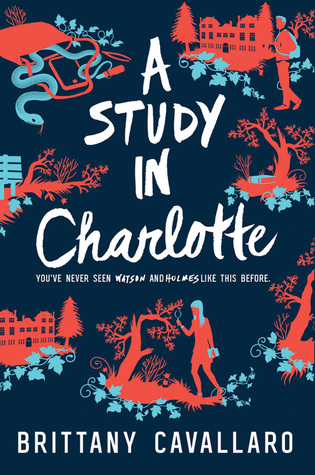 Edition: Hardcover, 321 pages, published March 1st 2016 by Katherine Tegen Books
Synopsis: The last thing Jamie Watson wants is a rugby scholarship to Sherringford, a Connecticut prep school just an hour away from his estranged father. But that's not the only complication: Sherringford is also home to Charlotte Holmes, the famous detective's great-great-great-granddaughter, who has inherited not only Sherlock's genius but also his volatile temperament. From everything Jamie has heard about Charlotte, it seems safer to admire her from afar.
From the moment they meet, there's a tense energy between them, and they seem more destined to be rivals than anything else. But when a Sherringford student dies under suspicious circumstances, ripped straight from the most terrifying of the Sherlock Holmes stories, Jamie can no longer afford to keep his distance. Jamie and Charlotte are being framed for murder, and only Charlotte can clear their names. But danger is mounting and nowhere is safe—and the only people they can trust are each other.
I wasn't expecting to actually like this book. Mystery has just never really been my thing. Although I've always seen the appeal of it, it's just not a genre I come across often, and therefore haven't read a lot of it.
The plot…ah, so compelling! Obviously, this book is a mystery. It should be compelling. And the reader should always be kept guessing, but I didn't expect it to be done so well. So amazingly.
The characters…how perfect for YA! I guess here lies my problem with mystery books. I never thought I would be able to relate to, or like the characters. But Cavallaro proved me completely wrong. Being teenagers in a high school, they were relatable. They were likeable. They were perfect.
The writing…was pretty damn spot on. I don't know how else to word it, but it suited the book down to a T. I felt both Holmes' and Watson's characters very strongly throughout the writing, even though most of the book was written from Watson's POV.
Something I liked…the setting. I don't often point this out, but I think if it hadn't have been set in a high school I just wouldn't have related to it as much.
Something I disliked…practically nothing. The only thing I can say would I would have liked more closeness between the two, and more expansion on their friendship.
My rating is…
☽ ☽ ☽ ☽
4 out of 5 moons
-Beth
May your shelves forever overflow with books! ☽
---
---