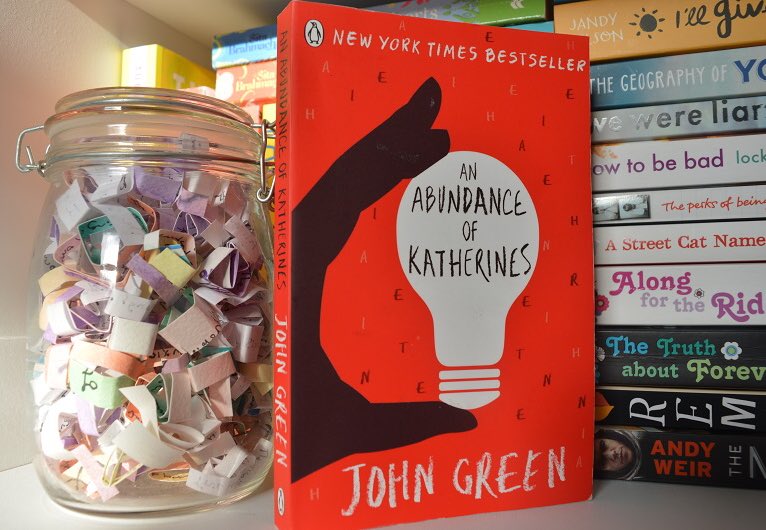 When it comes to relationships, Colin Singleton's type happens to be girls named Katherine. And when it comes to girls named Katherine, Colin is always getting dumped. Nineteen times, to be exact.
On a road trip miles from home, this anagram-happy, washed-up child prodigy has ten thousand dollars in his pocket, a bloodthirsty feral hog on his trail, and an overweight, Judge Judy-loving best friend riding shotgun–but no Katherines. Colin is on a mission to prove The Theorem of Underlying Katherine Predictability, which he hopes will predict the future of any relationship, avenge Dumpees everywhere, and finally win him the girl. Love, friendship, and a dead Austro-Hungarian archduke add up to surprising and heart-changing conclusions in this ingeniously layered comic novel about reinventing oneself.
There's no easy way to say it – this book was overall, a disappointment. It's not that I didn't enjoy it exactly…I did. But there was nothing extraordinary, nothing out-of-this-world amazing that a lot of people would expect from such an accredited author.
However, I'll start with the things I liked.
The writing is easy to follow and full of good natured humor! I laughed out loud at some things, it really is that good.
I also loved the characters. Colin was sweet, as was Hassan, and Lindsey was just awesome! She was so badass and sassy but I love that the book also showed her softer side in places. Everyone has that private side and everyone has someone that they can be their true self around, and this book displayed the true honour of having that certain person really well.
The setting was lovely, too. I liked that it was discussed between the characters throughout this novel.
I've also got to say, I kind of liked the footnotes and math. Reading through a couple of reviews, it seems like a love or hate thing. I didn't love it – but I liked and appreciated how Green tried to make it more unique and interesting to the reader…even if it was a little hit and miss.
I will get forgotten, but the stories will last. And so we all matter – maybe less than a lot, but always more than none.
On the other hand, I really didn't like a lot about this book. I just didn't buy the whole thing, especially all of the Katherine's.
Just how likely is it that a teenage guy has dated (and been dumped very quickly) by nineteen girls all named Katherine? How did he happen to find every Katherine attractive? Why did they all engage in some kind of (if short) relationship with him? It just seems so unlikely, it made me feel really distant from Colin and his story.
The Arabic and constant translating got on my nerves after a while. Again, I appreciated the idea. But it was kind of a pain to have to keep skipping to the bottom of the page to read the English translations.
It also really irritated me that I guessed a big part of this book was going to happen. Honestly, something that doesn't happen until the 206th page (out of 213), I guessed on page 42. So I went the entire book basically knowing the ending.
Before I go – here's a warning for anyone wanting to read this book. If you're looking for an epic road trip, stop now. One of my all time favourite YA books is Amy & Rogers Epic Detour, partly because I adore road trip books. But by page 25, all road trips are done and dusted. Welcome to your bookish destination, Gutshot, Tennessee. You're stuck here now.
Overall, you can see this book kind of got on my nerves. I'm still glad I'm read it and I still liked it – but it also disappointed me in many ways. So as a rating, it was kind of average.
☽ ☽
2 out of 5 moons
-Beth
May your shelves forever overflow with books! ☽
---
---
Save
Save
Save
Save
Save
Save
Save
Save
Save