Sorry I haven't been around for a few days – it's been hectic! I was out with college for most of the day on Friday, followed by a book signing (which we're going to be discussing!) and Comic Con yesterday. So, let's talk about the signing!
There was a discussion at the start with Jennifer Niven & Lauren James, interviewed by Michelle Toy from Tales of Yesterday.
Although I own The Next Together, I haven't read it yet.But I'm sure you all know that Jennifer Niven is my absolute favourite author! I'm sure you all know one of the hardest things for a bookworm to do is choose a favourite book – but every time I try, I always end up picking All the Bright Places as number one. I'm sure you'll all understand how much of an honour is it to meet that favourite author. It's rare that American authors come over and tour over here – and I'm lucky that I found out she was visiting when I did!
As I do with all the authors I meet now, I made Jen a cake! My brother made me an All the Bright Places cake for my birthday, so I decided to do Holding Up the Universe.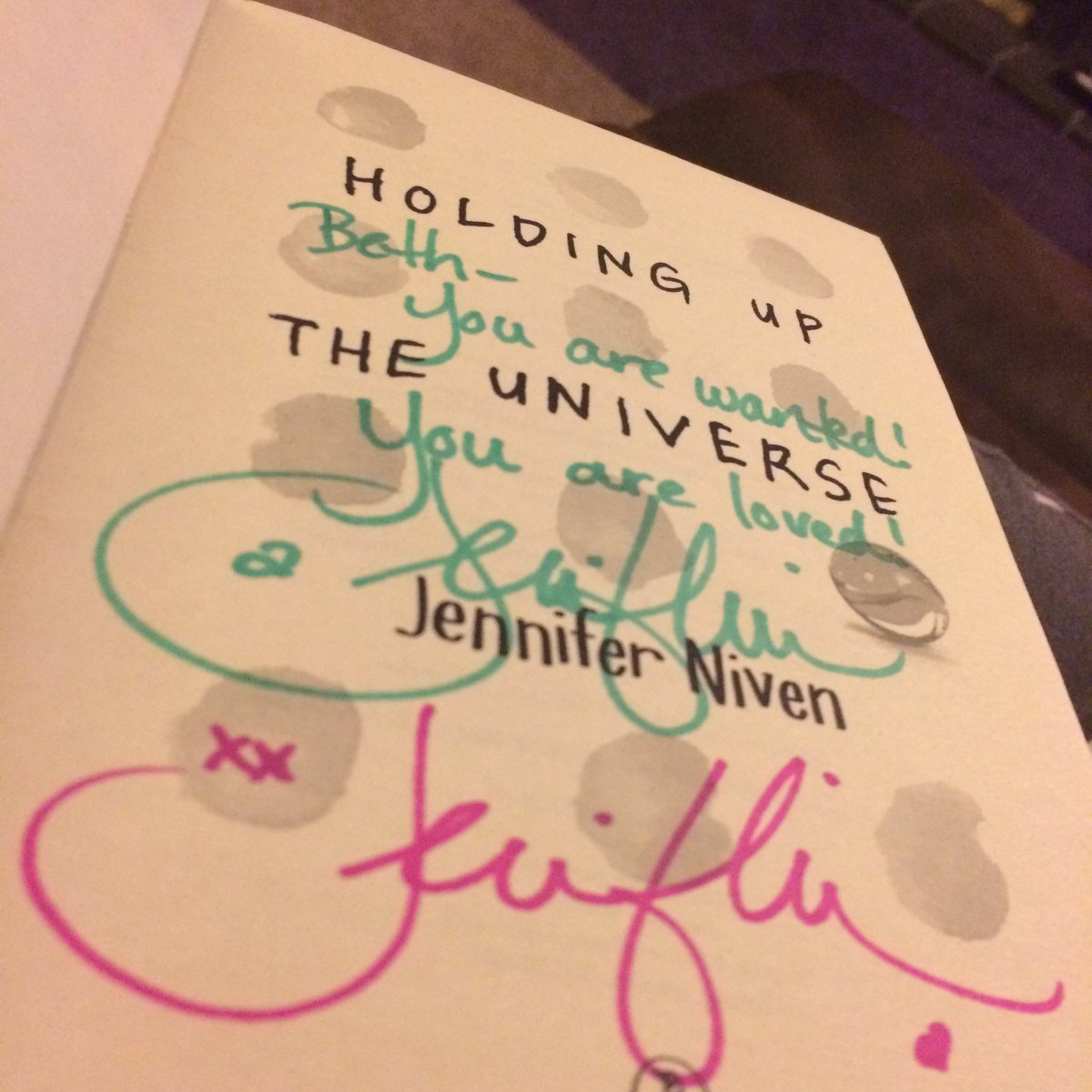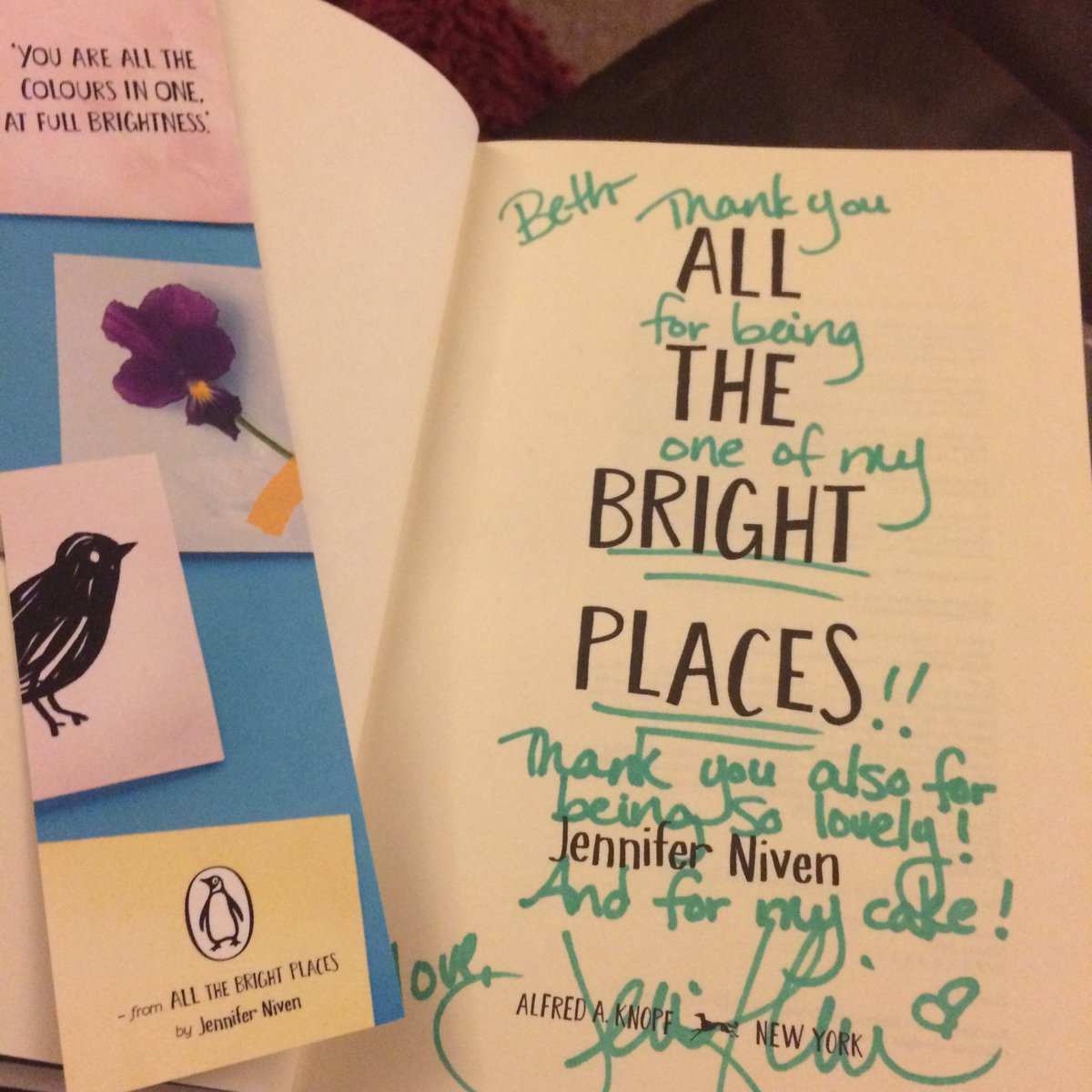 She signed my books so gorgeously, thanking me for my cake 🙂 I already had a pre-signed copy of Holding Up the Universe, but she signed it twice!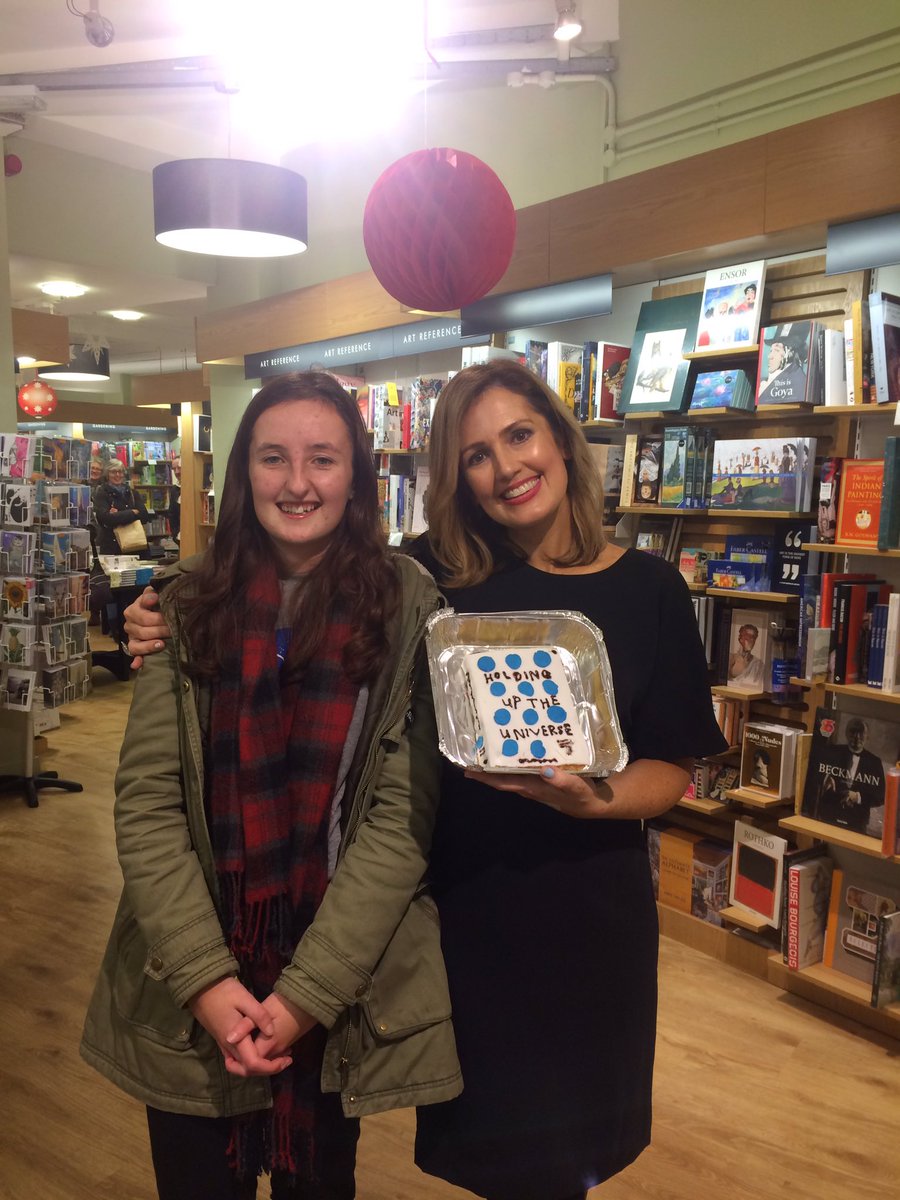 I won't lie, I cried when I met her! I've got a little teary before, but this time I full-on cried! It just got so overwhelming, to see her for nearly 2 years online and follow everything she does…to seeing her lovely self in the flesh. As soon as I saw her and showed her the cake I cried, and then she got up and gave me a massive hug! We took some photos too 🙂
When she finished signing my book (and I signed hers, what a cool idea to have a book signed by her visitors), I took the badges above and she got up to have another hug with me. It was so amazing, I told her I loved and she said she loves me too and told me I'm wanted. She even blew me a kiss when I left and thanked me for being so lovely to her on Twitter and in real life!
It was definitely an unforgettable evening. I don't know if I'll ever feel the same way meeting an author again – it was such a surreal experience.
Note: Just a little thank you to my friend Pete for looking after me and putting up with my crying! It was great to see you again 🙂
Oh, and before I go….I can't believe I'm saying this but I went onto Instagram this morning to see this!
Honestly, I feel so, so honoured to be recognised and seen by Jen this way! Thank you so much to Waterstones (especially Jamie!), Chelle and both authors for the amazing event.
-Beth
May your shelves forever overflow with books! ☽
---
---
Save
Save
Save
Save
Save
Save
Save
Save
Save
Save
Save
Save
Save
Save
Save
Save
Save
Save
Save
Save
Save
Save
Save
Save
Save
Save
Save