Whoop whoop – it's that time of year! I'm going on a 5 day vacation with two of my best friends on Monday!
(I mean it's now kind of the end of summer but oh well IT'LL STILL BE AWESOME).
It's definitely going to be a pretty hectic week but it'll be my last before college starts back so I'm hoping to get some reading in! Here are a few books I'd love to read while I'm away: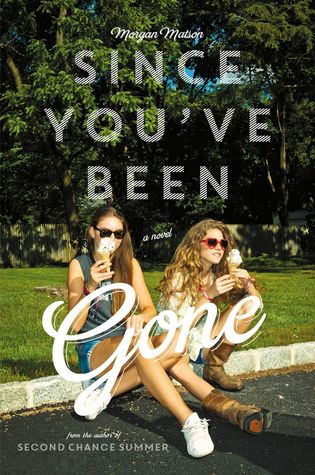 It was Sloane who yanked Emily out of her shell and made life 100% interesting. But right before what should have been the most epic summer, Sloane just…disappears. All she leaves behind is a to-do list.
On it, thirteen Sloane-inspired tasks that Emily would normally never try. But what if they could bring her best friend back?
Apple picking at night? Okay, easy enough.
Dance until dawn? Sure. Why not?
Kiss a stranger? Um…
Emily now has this unexpected summer, and the help of Frank Porter (totally unexpected), to check things off Sloane's list. Who knows what she'll find?
Go skinny-dipping? Wait…what?
This book is my last one in my Morgan Matson collection and I can't find to find out what the hype is about.
Bailey "Mink" Rydell has met the boy of her dreams. They share a love of films and talk all day – Alex is perfect. Well, apart from the fact that they've never actually met . . . and neither of them knows the other's real name. When Bailey moves to sunny California to live with her dad, who happens to live in the same town as Alex, she decides to track him down. But finding someone based on online conversations alone proves harder than Bailey thought, and with her irritating but charismatic (and potentially attractive?) colleague Porter Roth distracting her at every turn, will she ever get to meet the mysterious Alex?
I adored Night Owls by Jenn Bennett, and I finally have a copy of her second book! It's also about films, which is pretty awesome considering I'm studying media.
Multiplatinum pop icon Lily Ross's biggest hits and biggest heartbreaks (because they are one and the same):
1. AGONY. (That feeling when her ex ripped her heart out of her chest and she never saw it coming.) 2. GHOSTS. (Because even famous people are ghosted by guys sometimes. And it sucks just as much.) 3. ONCE BITTEN. (As in: twice shy. Also, she's never dating an actor or a musician ever again.)
But this summer's going to be different. After getting her heart shattered, Lily is taking herself out of the spotlight and heading to a small island in middle-of-nowhere Maine with her closest friends. She has three months until her fall tour starts-three months to focus on herself, her music, her new album. Anything but guys.
That is . . . until Lily meets sweet, down-to-earth local Noel Bradley, who is so different from anyone she's ever dated. Suddenly, Lily's "summer of me" takes an unexpected turn, and she finds herself falling deeper and harder than ever before. But Noel isn't interested in the limelight. She loves Noel-but she loves her fans, too. And come August, she may be forced to choose.
This one is a bit of a bonus because I have no clue how much time I'll have to read! But this one is also about summer, so I'd like to get round to it soon at least.
-Beth