Top 5 Wednesday is a weekly meme hosted by Lainey. You get a new topic every Wednesday, and you list your Top 5 books related to that topic. If you'd like to take part, join the Goodreads group, and add your name to the list of bloggers & booktubers!
This was such a difficult topic because I would start to look at 'forgettable' books, then remember all about them. Haha.
Anyway, the books here are not necessarily ones I disliked…but they are ones I can't really remember much about.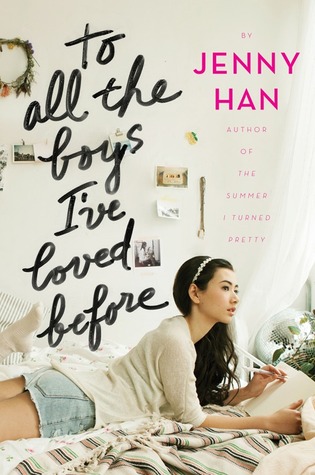 What if all the crushes you ever had found out how you felt about them… all at once?
Sixteen-year-old Lara Jean Song keeps her love letters in a hatbox her mother gave her. They aren't love letters that anyone else wrote for her; these are ones she's written. One for every boy she's ever loved—five in all. When she writes, she pours out her heart and soul and says all the things she would never say in real life, because her letters are for her eyes only. Until the day her secret letters are mailed, and suddenly, Lara Jean's love life goes from imaginary to out of control.
I'm seemingly one of the few who doesn't adore this series, and honestly at this point I don't know if I'll ever continue with it.
Any great friendship can be as confusing, treacherous, inspiring and wonderful as any great romance.
Naomi and Ely have been best friends forever. Naomi loves and is in love with Ely, and Ely loves Naomi, but prefers to be in love with boys. So they create their "No Kiss List" of people neither of them is allowed to kiss.
And this works fine – until Bruce.
Bruce is Naomi's boyfriend, so there's no reason to put him on the List. But Ely kissed Bruce – and the resulting fallout is going to shake up the world!
I find this book is only memorable because of the movie, and I would actually recommend the movie over the book! All I remember about this book is Naomi being annoying and her chapters being full of emojis. No thank you.
Nick frequents New York's indie rock scene nursing a broken heart. Norah is questioning all of her assumptions about the world. They have nothing in common except for their taste in music, until a chance encounter leads to an all-night quest to find a legendary band's secret show and ends up becoming a first date that could change both their lives.
This is one of the few books on my shelf I picked up and couldn't remember much about at all. So definitely forgettable!
From the author of Trouble comes a new novel about boys, bands and best mates.
Kaz is still reeling from being dumped by the love of her life… Ruby is bored of hearing about it. Time to change the record.
Three days. Two best mates. One music festival. Zero chance of everything working out.
I remember the plot line being very basic for this book, and I don't remember much about it at all.
Caggie's life was perfect.
But when a moment of recklessness on the Manhattan rooftops is misunderstood by her friends and family, Caggie knows that her life has changed forever. Nothing makes sense anymore, and no one seems to understand.
Then she meets the dark and enigmatic Astor – the only person who understands what she's going through. But as he seduces Caggie further away from her old life and everyone she once cared about, she starts to wonder if she'll ever find her way back. Because once you fall, there's no going back.
And the same with this book, it's so forgettable as I can't remember what happens at all! I did read it 2 years ago, but I do generally remember a lot about books and my mind is blank when it comes to this one.
Thanks for reading! Which books did you find forgettable?
-Beth
May your shelves forever overflow with books! ☽
| Goodreads |Instagram | Tumblr | Twitter | YouTube | Facebook | Redbubble |