Top 5 Wednesday is a weekly meme hosted by Lainey. You get a new topic every Wednesday, and you list your Top 5 books related to that topic. If you'd like to take part, join the Goodreads group, and add your name to the list of bloggers & booktubers!
I'm so happy I managed to post a review yesterday but today I can officially say I'm back. I had my first university interview today and I feel so relieved now! It went really well and I can finally focus on other things again.
So here I am today with a T5W post and a really interesting topic! As I'm sure my friends and family know, I love a good bookish rant.
Goodreads | Amazon | My review
Clay Jensen returns home from school to find a strange package with his name on it lying on his porch. Inside he discovers several cassette tapes recorded by Hannah Baker–his classmate and crush–who committed suicide two weeks earlier. Hannah's voice tells him that there are thirteen reasons why she decided to end her life. Clay is one of them. If he listens, he'll find out why.
Clay spends the night crisscrossing his town with Hannah as his guide. He becomes a firsthand witness to Hannah's pain, and as he follows Hannah's recorded words throughout his town, what he discovers changes his life forever.
This is probably my most discussed book. Trust me, you did not want to be around me while I was reading this. I'm sure my peers would happily rant about tell you how much I hated this book and how much I loved to tell everyone.
Despite the tumor-shrinking medical miracle that has bought her a few years, Hazel has never been anything but terminal, her final chapter inscribed upon diagnosis. But when a gorgeous plot twist named Augustus Waters suddenly appears at Cancer Kid Support Group, Hazel's story is about to be completely rewritten.
My boyfriend and I both find this book incredibly pretensious, and we have actually be known to mockingly quote the book directly. Honestly, I could talk about John Green and his pretensious writing all day if you wanted me to!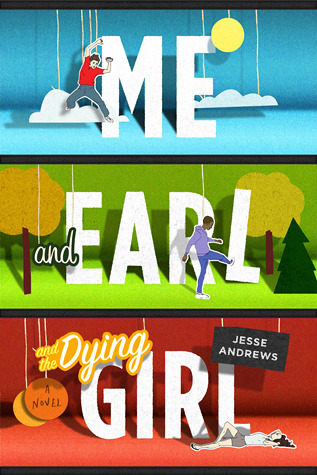 Goodreads | Amazon | My review
Greg Gaines is the last master of high school espionage, able to disappear at will into any social environment. He has only one friend, Earl, and together they spend their time making movies, their own incomprehensible versions of Coppola and Herzog cult classics.
Until Greg's mother forces him to rekindle his childhood friendship with Rachel.
Rachel has been diagnosed with leukemia—-cue extreme adolescent awkwardness—-but a parental mandate has been issued and must be obeyed. When Rachel stops treatment, Greg and Earl decide the thing to do is to make a film for her, which turns into the Worst Film Ever Made and becomes a turning point in each of their lives.
And all at once Greg must abandon invisibility and stand in the spotlight.
I had so many problems with this book, and as I'm a media student, I felt like I could really rant about the problems with the media theme in this book. It was just awful. Ugh.
Goodreads | Amazon | My review
Mara Carlyle's senior year is going as normally as could be expected, until—wa-bam!—fellow senior Katelyn Ogden explodes during third period pre-calc.
Katelyn is the first, but she won't be the last teenager to blow up without warning or explanation. As the seniors continue to pop like balloons and the national eye turns to Mara's suburban New Jersey hometown, the FBI rolls in and the search for a reason is on.
Whip-smart and blunt, Mara narrates the end of their world as she knows it while trying to make it to graduation in one piece. It's an explosive year punctuated by romance, quarantine, lifelong friendship, hallucinogenic mushrooms, bloggers, ice cream trucks, "Snooze Button™," Bon Jovi, and the filthiest language you've ever heard from the President of the United States.
This is definitely one of the most disappointing books on my shelves. It sounds so awesome, but as soon as I went into it I knew I was going to hate it!
Goodreads | Amazon | My review
Sixty years after a virus has wiped out almost all the men on the planet, things are pretty much just as you would imagine a world run by women might be: war has ended; greed is not tolerated; the ecological needs of the planet are always put first. In two generations, the female population has grieved, pulled together and moved on, and life really is pretty good – if you're a girl. It's not so great if you're a boy, but fourteen-year-old River wouldn't know that. Until she met Mason, she thought they were extinct.
There are many, many reasons that this book has only 2.94 stars on Goodreads. I wouldn't always agree with hype or ratings, but this one has it so spot on. There isn't just one or two things wrong with this book. There are so many!
Thanks for reading! Which books do you love to rant about?
-Beth
May your shelves forever overflow with books! ☽
| Goodreads |Instagram | Tumblr | Twitter | YouTube | Facebook | Redbubble |