Top 5 Wednesday is a weekly meme hosted by Lainey. You get a new topic every Wednesday, and you list your Top 5 books related to that topic. If you'd like to take part, join the Goodreads group, and add your name to the list of bloggers & booktubers!
I thought this might be a difficult topic to complete but I've managed to find 5 books so easily that need more hype! This just proves that there really are loads of books out there that need more readers. All of the books below have under 1200 ratings on Goodreads – but all of them are among the best loved novels on my shelf!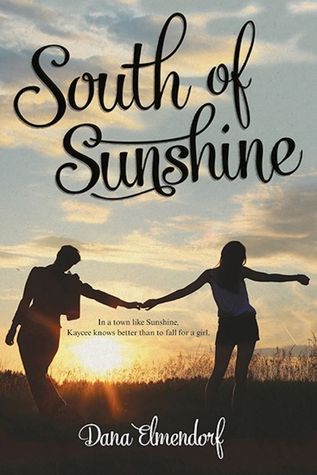 Goodreads | Amazon | My review
In Sunshine, Tennessee, the main event in town is Friday night football, the biggest party of the year is held in a field filled with pickup trucks, and church attendance is mandatory. For Kaycee Jean McCoy, life in Sunshine means dating guys she has no interest in, saying only "yes, ma'am" when the local bigots gossip at her mom's cosmetics salon, and avoiding certain girls at all costs. Girls like Bren Dawson.
Unlike Kaycee, Bren doesn't really conceal who she is. But as the cool, worldly new girl, nobody at school seems to give her any trouble. Maybe there's no harm if Kaycee gets closer to her too, as long as she can keep that part of her life a secret, especially from her family and her best friend. But the more serious things get with Bren, the harder it is to hide from everyone else. Kaycee knows Sunshine has a darker side for people like her, and she's risking everything for the chance to truly be herself.
This has to be one of the best LGBTQIA+ novels I've read, and it portrays such an important message. Everyone can support the LGBTQIA+ community, no matter what your sexual orientation. I would go as far to say I think it's one of the most important books in YA.
Goodreads | Amazon | My review
On the anniversary of her daredevil brother's death, Jaycee attempts to break into Jake's favorite hideout—the petrifying ruins of an insane asylum. Joined by four classmates, each with their own brand of dysfunction, Jaycee discovers a map detailing her brother's exploration and the unfinished dares he left behind.
As a tribute to Jake, Jaycee vows to complete the dares, no matter how terrifying or dangerous. What she doesn't bargain on is her eccentric band of friends who challenge her to do the unthinkable: reveal the parts of herself that she buried with her brother.
This is probably the most underrated book I own, but I absolutely love it. It's one I love and hold dearly to my heart, and it definitely deserves more hype.
Goodreads | Amazon | My review
Lexi Angelo has grown up helping her dad with his events business. She likes to stay behind the scenes, planning and organizing…until author Aidan Green – messy haired and annoyingly arrogant – arrives unannounced at the first event of the year. Then Lexi's life is thrown into disarray.
In a flurry of late-night conversations, mixed messages and butterflies, Lexi discovers that some things can't be planned. Things like falling in love…
I love Maggie's writing and this is one of my favourite contemporaries out there! If you love conventions, this one is definitely for you.
Goodreads | Amazon | My review
Multiplatinum pop icon Lily Ross's biggest hits and biggest heartbreaks (because they are one and the same):
1. AGONY. (That feeling when her ex ripped her heart out of her chest and she never saw it coming.)
2. GHOSTS. (Because even famous people are ghosted by guys sometimes. And it sucks just as much.)
3. ONCE BITTEN. (As in: twice shy. Also, she's never dating an actor or a musician ever again.)
But this summer's going to be different. After gtting her heart shattered, Lily is taking herself out of the spotlight and heading to a small island in middle-of-nowhere Maine with her closest friends. She has three months until her fall tour starts-three months to focus on herself, her music, her new album. Anything but guys.
That is . . . until Lily meets sweet, down-to-earth local Noel Bradley, who is so different from anyone she's ever dated. Suddenly, Lily's "summer of me" takes an unexpected turn, and she finds herself falling deeper and harder than ever before. But Noel isn't interested in the limelight. She loves Noel-but she loves her fans, too. And come August, she may be forced to choose.
This was one of my most surprising books of last year, and I ended up really being shocked by it! Definitely one to read if you like romances.
Goodreads | Amazon | My review
With a grandmother from China and another from Ghana, fifteen-year-old Wing Jones is often caught between worlds. But when tragedy strikes, Wing discovers a talent for running she never knew she had. Wing's speed could bring her family everything it needs. It could also stop Wing getting the one thing she wants.
For so many reasons, this book deserves more hype. Katherine is such a lovely and talented author, and this book really surprised me!
Which books in your favourite genre deserve more hype?
-Beth
May your shelves forever overflow with books! ☽
| Goodreads |Instagram | Tumblr | Twitter | YouTube | Facebook | Redbubble |