Top 5 Wednesday is a weekly meme hosted by Lainey. You get a new topic every Wednesday, and you list your Top 5 books related to that topic. If you'd like to take part, join the Goodreads group, and add your name to the list of bloggers & booktubers!
It's time for another T5W post! We're still on the subject of romance, and today we're talking about romance books themselves. These books might not be seen as everyone by strictly romance but to me they have love as their main topic!
Amy Curry is having a terrible year. Her mother is moving all the way across the country and needs Amy to drive their car from California to the East Coast. But since the death of her father, Amy hasn't been able to get behind the wheel of a car. Enter Roger, the son of an old family friend, who turns out to be unexpectedly cute.
Amy and Roger is actually my favourite Morgan Matson book and it is one of my most adored contemporary romances. Not only is it set in America and includes a road trip, it also includes little snippets of notes and playlists!
Axi Moore is a "good girl". When Axi invites her best friend, Robinson–with whom she's secretly in love–to come with her on a cross-country road trip, she's finally breaking all the rules. But they soon find that, however far they run, they can't escape the heartbreaking troubles that brought them together in the first place.
In this madcap adventure full of love and loss, Axi realizes that her romance with Robinson might not have the happy ending she was hoping for….
First Love is another road trip book, and it is one that made me sob. It's a heartbreaking romance but I loved it. Definitely one I would recommend to readers of romance!
Mitsuha, a high school girl living in a rural town deep in the mountains, has a dream that she is a boy living an unfamiliar life in Tokyo. Taki, a high school boy living in Tokyo, dreams that he is a girl living in the mountains. As they realize they are changing places, their encounter sets the cogs of fate into motion. The light novel is written by director Makoto Shinkai of the animated film Your Name.
Your Name may not strictly be a romance novel, but it is woven and interlocked with love. It is also deeply loved by me, and both of the characters are ones I hold close to my heart.
Jude and her twin Noah were incredibly close – until a tragedy drove them apart, and now they are barely speaking. Then Jude meets a cocky, broken, beautiful boy as well as a captivating new mentor, both of whom may just need her as much as she needs them. What the twins don't realize is that each of them has only half the story and if they can just find their way back to one another, they have a chance to remake their world.
Again, I'll Give You the Sun is interlocked with romance. I love how this books includes both a straight and gay romance!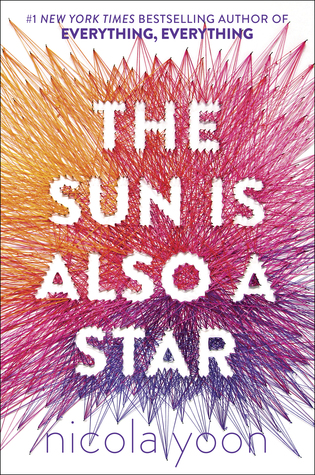 Natasha: I'm a girl who believes in science and facts. Not fate. Not destiny. Or dreams that will never come true. I'm definitely not the kind of girl who meets a cute boy on a crowded New York City street and falls in love with him. Not when my family is twelve hours away from being deported to Jamaica. Falling in love with him won't be my story.
Daniel: I've always been the good son, the good student, living up to my parents' high expectations. Never the poet. Or the dreamer. But when I see her, I forget about all that. Something about Natasha makes me think that fate has something much more extraordinary in store—for both of us.
The Universe: Every moment in our lives has brought us to this single moment. A million futures lie before us. Which one will come true?
This book is romance through and through. It focuses and centers on the love between two people, and the difficulties that come with that love. It is true and in depth and beautiful.
Which romance books do you love?
-Beth
May your shelves forever overflow with books! ☽
| Goodreads |Instagram | Tumblr | Twitter | YouTube | Facebook | Redbubble |