Stacking the Shelves is a weekly meme hosted by Tynga where we share books we've bought this week. Find out more and join in here!
It's been two weeks I last did a Stacking the Shelves and I've bought another 3 books. Yes, it's probably about time I start feeling bad. One of my New Year's Resolutions was to control my book buying, and it's not exactly going to plan.
Well the best part has been this book – it means I've finally completed my Harry Potter series!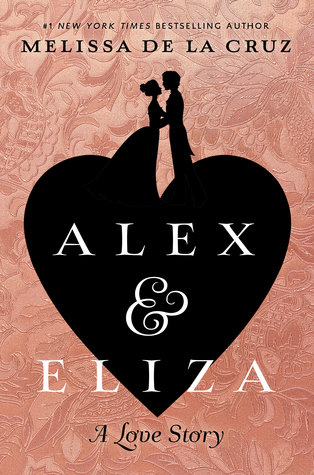 Their romance shaped a nation. The rest was history.
1777. Albany, New York.
As battle cries of the American Revolution echo in the distance, servants flutter about preparing for one of New York society's biggest events: the Schuylers' grand ball. Descended from two of the oldest and most distinguished bloodlines in New York, the Schuylers are proud to be one of their fledgling country's founding families, and even prouder still of their three daughters—Angelica, with her razor-sharp wit; Peggy, with her dazzling looks; and Eliza, whose beauty and charm rival that of both her sisters, though she'd rather be aiding the colonists' cause than dressing up for some silly ball.
Still, she can barely contain her excitement when she hears of the arrival of one Alexander Hamilton, a mysterious, rakish young colonel and General George Washington's right-hand man. Though Alex has arrived as the bearer of bad news for the Schuylers, he can't believe his luck—as an orphan, and a bastard one at that—to be in such esteemed company. And when Alex and Eliza meet that fateful night, so begins an epic love story that would forever change the course of American history.
Well, Harry Potter and the Half Blood Prince was on a buy-two-for-£7 deal, so I just had to choose another one didn't I?
Daisy's best friend is missing . . . and not for the reasons she thinks.
Henry Hawking is sixteen years old, brilliant, funny, and sly–and now he's missing. But no one seems worried except his best friend, Daisy Cruz, who knows that Henry's security-obsessed parents would never leave town without taking proper precautions. And Henry would never go away without saying good-bye.
Daisy considers all the obvious explanations for Henry's disappearance (federal witness protection program, alien abduction) before breaking into Henry's house. In his room, she finds a note that pleads, SAVE ME.
Desperate to find Henry, Daisy follows his trail deep into the California wilderness. What she finds there makes her wonder if she ever knew Henry at all . . . and if the world as she knows it will ever be the same.
This week has contained some challengs including a uni interview – which went well! I decided to congratulate myself by going into the local bookstore and buying this beautiful American edition.
Did you buy any books this week?
-Beth
May your shelves forever overflow with books! ☽
| Goodreads |Instagram | Tumblr | Twitter | YouTube | Facebook | Redbubble |