Top 5 Wednesday is a weekly meme hosted by Lainey. You get a new topic every Wednesday, and you list your Top 5 books related to that topic. If you'd like to take part, join the Goodreads group, and add your name to the list of bloggers & booktubers!
I've got to say, I'm struggling at the moment with T5W subjects and this week sounded especially difficult! Maybe I just haven't read enough books in my time, but I couldn't think of jokesters to make this an interesting post. I did a bit of researching and decided to go with something slightly different – a collection of laugh out loud reads!
When it comes to relationships, Colin Singleton's type happens to be girls named Katherine. And when it comes to girls named Katherine, Colin is always getting dumped. Nineteen times, to be exact.
On a road trip miles from home, this anagram-happy, washed-up child prodigy has ten thousand dollars in his pocket, a bloodthirsty feral hog on his trail, and an overweight, Judge Judy-loving best friend riding shotgun–but no Katherines. Colin is on a mission to prove The Theorem of Underlying Katherine Predictability, which he hopes will predict the future of any relationship, avenge Dumpees everywhere, and finally win him the girl.
This book made me chuckle for many reasons, but partly because it was so ridiculous. How can one guy date 19 girls called Katherine?!
Sixteen-year-old and not-so-openly gay Simon Spier prefers to save his drama for the school musical. But when an email falls into the wrong hands, his secret is at risk of being thrust into the spotlight. Now Simon is actually being blackmailed: if he doesn't play wingman for class clown Martin, his sexual identity will become everyone's business. Worse, the privacy of Blue, the pen name of the boy he's been emailing, will be compromised.
With some messy dynamics emerging in his once tight-knit group of friends, and his email correspondence with Blue growing more flirtatious every day, Simon's junior year has suddenly gotten all kinds of complicated. Now, change-averse Simon has to find a way to step out of his comfort zone before he's pushed out—without alienating his friends, compromising himself, or fumbling a shot at happiness with the most confusing, adorable guy he's never met.
I really loved Simon's story and his awkwardness made me laugh! It's such a heartwarming read and I can't wait to see it on the big screen.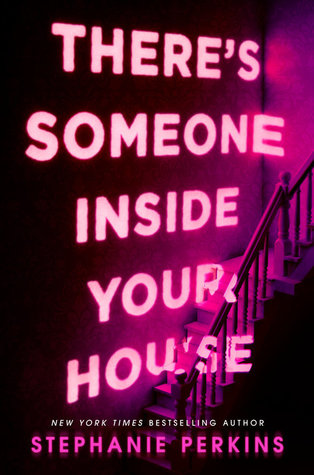 Makani Young thought she'd left her dark past behind her in Hawaii, settling in with her grandmother in landlocked Nebraska. She's found new friends and has even started to fall for mysterious outsider Ollie Larsson. But her past isn't far behind.
Then, one by one, the students of Osborne Hugh begin to die in a series of gruesome murders, each with increasingly grotesque flair. As the terror grows closer and her feelings for Ollie intensify, Makani is forced to confront her own dark secrets.
I remember reading this and laughing so much – I never really laugh out loud at books but this is one I really remember! Some of the scenes were so hilarious to picture that I ended up chuckling.
Dash and Lily have been dating for nearly a year, but when Lily's beloved grandfather falls ill, the repercussions take their toll on everyone. Even though they are still together, somehow the magic has gone out of their relationship and it's clear that Lily has fallen out of love with life.
Action must be taken! Dash teams up with Lily's brother and a host of their friends, who have just twelve days to get Lily's groove back in time for Christmas.
Lily had some right adventures in this book and I loved parts of it.
Hildy and Paul each have their own reasons for taking part in the psychology study (in Paul's case it is the $40, in Hildy's the reasons are significantly more complex). The study poses the simple question: Can love be engineered between two random strangers?
Hildy and Paul must ask each other 36 questions, ranging from "What is your most terrible memory?" to "When did you last sing to yourself?" By the time Hildy and Paul have made it to the end of the questionnaire, they've laughed and cried and lied and thrown things and run away and come back again. They've also each discovered the painful secret the other was trying so hard to hide. But have they fallen in love?
This book was so fun and lighthearted – I really liked the unique and funny story behind both characters!
Which books made you laugh out loud?
-Beth
May your shelves forever overflow with books! ☽
| Goodreads |Instagram | Tumblr | Twitter | YouTube | Facebook | Redbubble |