Top 5 Wednesday is a weekly meme hosted by Lainey. You get a new topic every Wednesday, and you list your Top 5 books related to that topic. If you'd like to take part, join the Goodreads group, and add your name to the list of bloggers & booktubers!
Hi readers! I thought this week might be a difficult topic for me as I don't read that much sci-fi and fantasy, but I'm actually happy to say I'm reading more. I've found myself discovering more fantasy/sci-fi and really enjoying it, so if you have any suggestions please leave them in the comments!
This morning, Kady thought breaking up with Ezra was the hardest thing she'd have to do. This afternoon, her planet was invaded.
The year is 2575, and two rival megacorporations are at war over a planet that's little more than an ice-covered speck at the edge of the universe. Too bad nobody thought to warn the people living on it. With enemy fire raining down on them, Kady and Ezra—who are barely even talking to each other—are forced to fight their way onto an evacuating fleet, with an enemy warship in hot pursuit.
But their problems are just getting started. A deadly plague has broken out and is mutating, with terrifying results; the fleet's AI, which should be protecting them, may actually be their enemy; and nobody in charge will say what's really going on. As Kady hacks into a tangled web of data to find the truth, it's clear only one person can help her bring it all to light: the ex-boyfriend she swore she'd never speak to again.
I might have disliked Gemina, but I still want to read Obsidio and Amie's other books!
Harry Potter has never even heard of Hogwarts when the letters start dropping on the doormat at number four, Privet Drive. Addressed in green ink on yellowish parchment with a purple seal they are swiftly confiscated by his grisley aunt and uncle. Then, on Harry's eleventh birthday, a great beetle-eyed giant of a man called Rubeus Hagrid bursts in with some astonishing news: Harry Potter is a wizard, and he has a place at Hogwarts School of Witchcraft and Wizardry.
An incredible adventure is about to begin!
As you know, I'm still enjoying Hogwarts and I can't wait to read every other Harry Potter related book ever written.
Romy Silvers is the only surviving crew-member of a spaceship travelling to a new planet, on a mission to establish a second home for humanity amongst the stars. Alone in space, she is the loneliest girl in the universe until she hears about a new ship which has launched from Earth – with a single passenger on board. A boy called J.
Their only communication with each other is via email – and due to the distance between them, their messages take months to transmit across space. And yet Romy finds herself falling in love.
But what does Romy really know about J? And what do the mysterious messages which have started arriving from Earth really mean?
Sometimes, there's something worse than being alone . . .
Lauren James is definitely an auto-buy author for me, I love her work so much!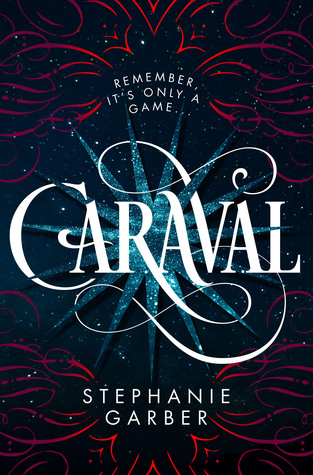 Scarlett Dragna has never left the tiny island where she and her sister, Tella, live with their powerful, and cruel, father. Now Scarlett's father has arranged a marriage for her, and Scarlett thinks her dreams of seeing Caraval—the faraway, once-a-year performance where the audience participates in the show—are over.
But this year, Scarlett's long-dreamt-of invitation finally arrives. With the help of a mysterious sailor, Tella whisks Scarlett away to the show. Only, as soon as they arrive, Tella is kidnapped by Caraval's mastermind organizer, Legend. It turns out that this season's Caraval revolves around Tella, and whoever finds her first is the winner.
Scarlett has been told that everything that happens during Caraval is only an elaborate performance. Nevertheless she becomes enmeshed in a game of love, heartbreak, and magic. And whether Caraval is real or not, Scarlett must find Tella before the five nights of the game are over or a dangerous domino effect of consequences will be set off, and her beloved sister will disappear forever.
And it's exactly the same with Stephanie Garber, although I unfortunately won't be able to pre-oreder Legendary as I already have 72 other books to read…
Goodreads | Amazon

Mitsuha, a high school girl living in a rural town deep in the mountains, has a dream that she is a boy living an unfamiliar life in Tokyo. Taki, a high school boy living in Tokyo, dreams that he is a girl living in the mountains. As they realize they are changing places, their encounter sets the cogs of fate into motion.
Makoto Shinkai is an auto-watch and buy. I love his work on movies, light novels and even graphic novels. I'd go as far to say I'm a pretty big fan 🙂
Which sci-fi and fantasy authors are auto-buys for you?
-Beth
May your shelves forever overflow with books! ☽
| Goodreads |Instagram | Tumblr | Twitter | YouTube | Facebook | Redbubble |