I'm so happy I finally managed to get read this series – it's actually been a very productive and exciting experience for me! I don't know how, but I managed to get through my 18 years of life without reading these books or watching the movies. Then I started integrating with the book community and realising I really should get my act together and read these books. To start, here are my separate reviews for every book!
Harry Potter and the Philosopher's Stone
Harry Potter and the Chamber of Secrets
Harry Potter and the Prisoner of Azkaban
Harry Potter and the Goblet of Fire
Harry Potter and the Order of the Phoenix
Harry Potter and the Half-Blood Prince
Harry Potter and the Deathly Hallows
And here is how I felt when I realised how much I loved this franchise: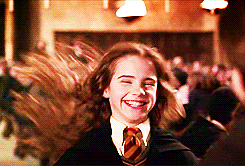 It was such a daunting prospect to read this in case I didn't like the books, so mainly I felt relieved. And I already own 2 pieces of merch, and I need so much more. I'm on movie 5, and I can't wait to finish them too!
-Beth
May your shelves forever overflow with books! ☽
| Goodreads |Instagram | Tumblr | Twitter | YouTube | Facebook | Redbubble |