Top 5 Wednesday is a weekly meme hosted by Lainey. You get a new topic every Wednesday, and you list your Top 5 books related to that topic. If you'd like to take part, join the Goodreads group, and add your name to the list of bloggers & booktubers!
Hi bookworms! This weeks Top 5 Wednesday theme is Books I've Removed From my TBR. This should have been a really easy topic, because I removed 250 books from my TBR earlier this year! But it actually took me a while to think up books that I don't want to read anymore, which are below.
Apparently I'm boring. A nobody. But that's all about to change. Because I am starting a project. Here. Now. For myself. And if you want to come along for the ride then you're very welcome.
Bree is a loser, a wannabe author who hides behind words. Most of the time she hates her life, her school, her never-there parents. So she writes.
But when she's told she needs to start living a life worth writing about, The Manifesto on How to Be Interesting is born. Six steps on how to be interesting. Six steps that will see her infiltrate the popular set, fall in love with someone forbidden and make the biggest mistake of her life.
I chose 5 books for 5 different reasons, this one being because I've found Holly's books a little too young for my tastes, so I've removed some of her younger sounding books.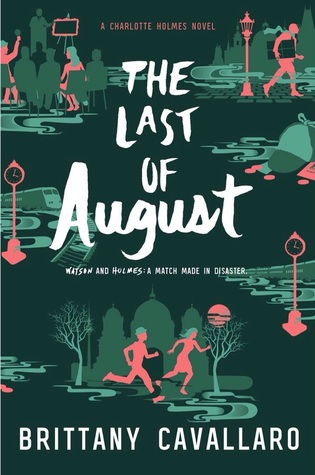 I removed a few books from my TBR because I didn't enjoy the first book in the series, which includes the books after A Study in Charlotte.
Sixteen-year-old Maguire knows the universe is against her. No matter how many charms she buys off the internet or good luck rituals she performs each morning, horrible things happen when she's around. Like that time the roller coaster jumped off its tracks. Or the time the house next door caught on fire. Or the time her brother, father, and uncle were all killed in a car crash–and Maguire walked away with barely a scratch. 
Despite what her therapist tells her, Maguire thinks it's best to hide out in her room, far away from anyone she might accidentally hurt. But then she meets Jordy, an aspiring tennis star who wants to help her break her unlucky streak. Maguire knows that the best thing she can do for him is to stay away, but it turns out staying away might be harder than she thought.
Another reason I've removed books is simply because my tastes of change, and this actually caused the massive amount of books I removed earlier in the year.
Sixteen-year-old Twylla lives in the castle. But although she's engaged to the prince, no one speaks to her. No one even looks at her. Because Twylla isn't a member of the court. She's the executioner. As the goddess-embodied, Twylla kills with a single touch. So each week, she's taken to the prison and forced to lay her hands on those accused of treason. No one will ever love her. Who could care for a girl with murder in her veins? Even the prince, whose royal blood supposedly makes him immune to her touch, avoids her.
But then a new guard arrives, a boy whose playful smile belies his deadly swordsmanship. And unlike the others, he's able to look past Twylla's executioner robes and see the girl, not the goddess. Yet a treasonous romance is the least of Twylla's problems. The queen has a plan to destroy her enemies-a plan that requires an unthinkable sacrifice. Will Twylla do what it takes to protect her kingdom? Or will she abandon her duty in favor of a doomed love?
That's another reason why I removed this book, as I knew my tastes had changed and I wouldn't enjoy it anymore. This realisation came when I found I had so many of my own books to read, I needed to stop reading books just because they looked okay or I'd seen them a lot.
Cyra is the sister of the brutal tyrant who rules the Shotet people. Cyra's currentgift gives her pain and power—something her brother exploits, using her to torture his enemies. But Cyra is much more than just a blade in her brother's hand: she is resilient, quick on her feet, and smarter than he knows.
Akos is the son of a farmer and an oracle from the frozen nation-planet of Thuvhe. Protected by his unusual currentgift, Akos is generous in spirit, and his loyalty to his family is limitless. Once Akos and his brother are captured by enemy Shotet soldiers, Akos is desperate to get his brother out alive—no matter what the cost.
Then Akos is thrust into Cyra's world, and the enmity between their countries and families seems insurmountable. Will they help each other to survive, or will they destroy one another?
The last reason I remove books from my TBR is because I've heard bad things about them. This book (and many others), have received so many criticisms that eventually I gave up on them. In fact, when I went through my TBR, I removed everything with 2 stars or less because I knew I wouldn't like them!
Thanks for reading. Which books did you remove from your TBR and why?
-Beth
May your shelves forever overflow with books! ☽
| Goodreads |Instagram | Tumblr | Twitter | YouTube | Facebook | Redbubble |