Top 5 Wednesday is a weekly meme hosted by Lainey. You get a new topic every Wednesday, and you list your Top 5 books related to that topic. If you'd like to take part, join the Goodreads group, and add your name to the list of bloggers & booktubers!
Hi everyone! It's a late T5W this week as I'm away visiting my lovely friend Amy for a couple of days. So roadtrips are quite spot-on for this week, as I've been doing some of my own.
Limpet, Steffan and Jared. Three best friends crammed into a clapped-out rust bucket of a car on a whirlwind road trip to forget their troubles and see out the end of the summer. But no matter how far they drive, they can't escape the hidden secrets and slow-burning romance that could upset the balance of their friendship – perhaps forever.
Let's start with something very underhyped – this book by Maggie Harcourt! I'd also recommend her book Unconventional.
Amy Curry is having a terrible year. Her mother is moving all the way across the country and needs Amy to drive their car from California to the East Coast. But since the death of her father, Amy hasn't been able to get behind the wheel of a car. Enter Roger, the son of an old family friend, who turns out to be unexpectedly cute.
This has to be my absolute favourite upbeat roadtrip book, and I love this edition with the illustrated cover!
Axi Moore is a "good girl". When Axi invites her best friend, Robinson–with whom she's secretly in love–to come with her on a cross-country road trip, she's finally breaking all the rules. But they soon find that, however far they run, they can't escape the heartbreaking troubles that brought them together in the first place.
In this madcap adventure full of love and loss, Axi realizes that her romance with Robinson might not have the happy ending she was hoping for…. 
I love this roadtrip book, but it's definitely more emotional and less upbeat than the above. If you're looking for something emotional, go for this one.
After the sudden collapse of her family, Mim Malone is dragged from her home in northern Ohio to the "wastelands" of Mississippi, where she lives in a medicated milieu with her dad and new stepmom. Before the dust has a chance to settle, she learns her mother is sick back in Cleveland.
So she ditches her new life and hops aboard a northbound Greyhound bus to her real home and her real mother, meeting a quirky cast of fellow travelers along the way. But when her thousand-mile journey takes a few turns she could never see coming, Mim must confront her own demons, redefining her notions of love, loyalty, and what it means to be sane.
This book is quite a different road-trip read, but one I enjoyed all the same.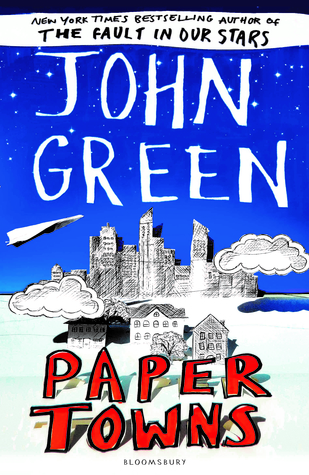 Quentin has always loved Margo Roth Spiegelman, for Margo (and her adventures) are the stuff of legend at their high school. So when she one day climbs through his window and summons him on an all-night road trip of revenge he cannot help but follow.
But the next day Margo doesn't come to school and a week later she is still missing. Q soon learns that there are clues in her disappearance . . . and they are for him. But as he gets deeper into the mystery – culminating in another awesome road trip across America – he becomes less sure of who and what he is looking for.
I didn't even think of Paper Towns until I had a quick Goodreads search! I'm actually really a fan compared to his other books, and it's definitely one of my other favourite road-trip reads.
Thanks for reading. Which road trip books did you love?
-Beth
May your shelves forever overflow with books! ☽
| Goodreads |Instagram | Tumblr | Twitter | YouTube | Facebook | Redbubble |