Top 5 Wednesday is a weekly meme hosted by Lainey. You get a new topic every Wednesday, and you list your Top 5 books related to that topic. If you'd like to take part, join the Goodreads group, and add your name to the list of bloggers & booktubers!
I love this topic but I'm going to try and speed through because I'm not feeling too great! I won't go into it anymore but being a woman sucks sometimes…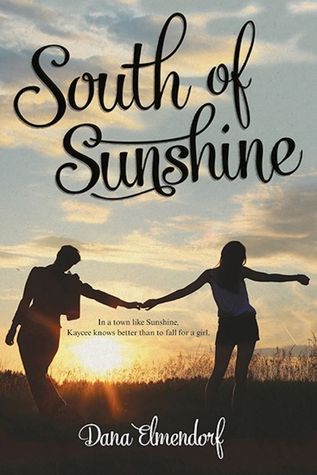 What is Kaycee willing to risk for the sake of love?
And what will she risk for acceptance?
In Sunshine, Tennessee, the main event in town is Friday night football, the biggest party of the year is held in a field filled with pickup trucks, and church attendance is mandatory. For Kaycee Jean McCoy, life in Sunshine means dating guys she has no interest in, saying only "yes, ma'am" when the local bigots gossip at her mom's cosmetics salon, and avoiding certain girls at all costs. Girls like Bren Dawson.
Unlike Kaycee, Bren doesn't really conceal who she is. But as the cool, worldly new girl, nobody at school seems to give her any trouble. Maybe there's no harm if Kaycee gets closer to her too, as long as she can keep that part of her life a secret, especially from her family and her best friend. But the more serious things get with Bren, the harder it is to hide from everyone else. Kaycee knows Sunshine has a darker side for people like her, and she's risking everything for the chance to truly be herself. 
The first book I'd really like to re-read is this one. I remember really enjoying it as an ARC, but I didn't enjoy reading it as an ebook! It would be awesome to get my hands on a physical copy.
At first, Jude and her twin brother Noah, are inseparable. Noah draws constantly and is falling in love with the charismatic boy next door, while daredevil Jude wears red-red lipstick, cliff-dives, and does all the talking for both of them. 
Years later, they are barely speaking. Something has happened to change the twins in different yet equally devastating ways . . . but then Jude meets an intriguing, irresistible boy and a mysterious new mentor. 
The early years are Noah's to tell; the later years are Jude's. But they each have only half the story, and if they can only find their way back to one another, they'll have a chance to remake their world.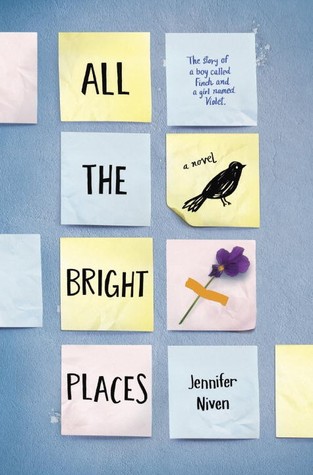 Theodore Finch is fascinated by death, and he constantly thinks of ways he might kill himself. But each time, something good, no matter how small, stops him.
Violet Markey lives for the future, counting the days until graduation, when she can escape her Indiana town and her aching grief in the wake of her sister's recent death.
When Finch and Violet meet on the ledge of the bell tower at school, it's unclear who saves whom. And when they pair up on a project to discover the "natural wonders" of their state, both Finch and Violet make more important discoveries: It's only with Violet that Finch can be himself—a weird, funny, live-out-loud guy who's not such a freak after all. And it's only with Finch that Violet can forget to count away the days and start living them. But as Violet's world grows, Finch's begins to shrink.
Both I'll Give You the Sun and All the Bright Places are books I absolutely adored when I read them, and quickly became some of my favourite reads ever. I'd love to give them a re-read to see if that's still true!
Amy Curry is having a terrible year. Her mother is moving all the way across the country and needs Amy to drive their car from California to the East Coast. But since the death of her father, Amy hasn't been able to get behind the wheel of a car. Enter Roger, the son of an old family friend, who turns out to be unexpectedly cute.
Simon Snow is the worst Chosen One who's ever been chosen.
That's what his roommate, Baz, says. And Baz might be evil and a vampire and a complete git, but he's probably right.
Half the time, Simon can't even make his wand work, and the other half, he starts something on fire. His mentor's avoiding him, his girlfriend broke up with him, and there's a magic-eating monster running around, wearing Simon's face. Baz would be having a field day with all this, if he were here — it's their last year at the Watford School of Magicks, and Simon's infuriating nemesis didn't even bother to show up.
And these last two I would love to read for the fun of it, as I'm pretty sure I'd still really enjoy them if I reread them now!
Thanks for reading. Which books do you want to reread?
-Beth
May your shelves forever overflow with books! ☽
| Goodreads |Instagram | Tumblr | Twitter | YouTube | Facebook | Redbubble |