What defines a vacation read? For me, the perfect holiday book is fun, lighthearted and easy to read. Contemporaries are the best for long summer days on the beach, and today I'm sharing some of my ideal vacation reads with you.
Classic movie fan Bailey "Mink" Rydell has spent months crushing on a witty film geek she only knows online as Alex. Two coasts separate the teens until Bailey moves in with her dad, who lives in the same California surfing town as her online crush.
Faced with doubts (what if he's a creep in real life—or worse?), Bailey doesn't tell Alex she's moved to his hometown. Or that she's landed a job at the local tourist-trap museum. Or that she's being heckled daily by the irritatingly hot museum security guard, Porter Roth—a.k.a. her new archnemesis. But life is a whole lot messier than the movies, especially when Bailey discovers that tricky fine line between hate, love, and whatever it is she's starting to feel for Porter.
And as the summer months go by, Bailey must choose whether to cling to a dreamy online fantasy in Alex or take a risk on an imperfect reality with Porter. The choice is both simpler and more complicated than she realizes, because Porter Roth is hiding a secret of his own: Porter is Alex…Approximately.
I love Jenn Bennett's books, and what could be more holiday-ready than a book set on the California coast?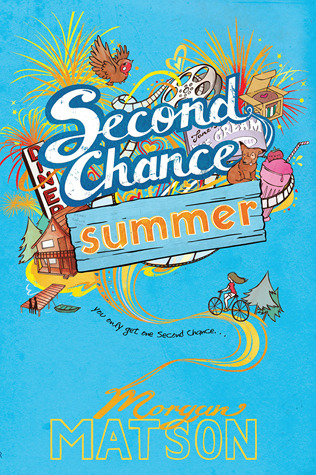 Taylor Edwards family might not be that close – everyone is a little too busy and overscheduled, but for the most part, they get along just fine. Then Taylor's dad gets some devastating news, and her parents decide that the family will spend one last summer together at their old lake house in the Pocono Mountains.
Matson might just be my favourite contemporary author, and I'd recommend any one of her books for vacation.
The Garretts are everything the Reeds are not. Loud, messy, affectionate. And every day from her rooftop perch, Samantha Reed wishes she was one of them . . . until one summer evening, Jase Garrett climbs up next to her and changes everything.
As the two fall fiercely for each other, stumbling through the awkwardness and awesomeness of first love, Jase's family embraces Samantha – even as she keeps him a secret from her own. Then something unthinkable happens, and the bottom drops out of Samantha's world. She's suddenly faced with an impossible decision. Which perfect family will save her? Or is it time she saved herself?
This one is one I read more recently, and a contemporary I absolutely loved. If you're looking for lighthearted with a twist, look no further.
Jesse, Vicks and Mel couldn't be more different. Jesse, a righteous Southern gal who's as thoughtful as she is uptight, is keeping a secret that she knows will change her life forever. Vicks is a wild child: seemingly cool, calm and collected on the outside, but inside she's furious at herself for being so anxious about her neglectful boyfriend. And Mel is the new girl in town. She's already been dismissed as just another rich kid, but all she wants is to get over some of her fears and find some true friends. 
But for all their differences, the girls discover they've got one thing in common – they're desperate to escape. Desperate to get the heck out of Niceville and discover their true 'badass' selves! Even if it's just for the weekend … One 'borrowed' car later, it's time to hit the road and head for Miami. Hearts will be broken, friendships will be tested, and a ridiculously hot stranger could change the course of everything.
This one is definitely due a re-read but I adored this book! It's the book that started my dream of going to Epcot which I'm still wishing and dreaming about.
Sophia has spent her life ping-ponging between different countries and schools, so, in theory, saying goodbye should be easy. But now she's leaving Tokyo – the place that finally felt like home. The only way she can get through this is to make her final week perfect. Then Jamie Foster-Collins shows up, just in time to ruin everything. Jamie and Sophia used to be friends . . . and his return stirs up feelings she thought she'd forgotten. Suddenly, hours and minutes become meaningless. Only time spent together, exploring the hidden streets of the city they love, is real.
I'm pretty sure I read this while I was on vacation in Madeira last year, and it was just perfect.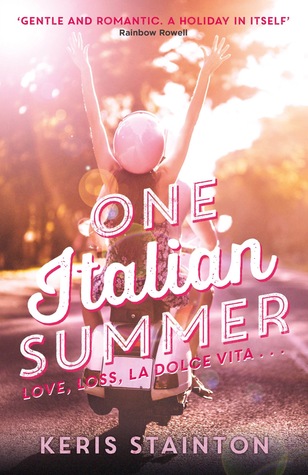 It's been a year since Milly, Elyse and Leonie's dad died, and a year since their last trip to Rome. Summer's here again, and once again they are heading with their mum to Italy – but what's it going to be like going without Dad? Rome still holds its familiar charms – the sun is still as warm, the gelato as delicious, the people as welcoming. But nothing is quite as it once was … 
With grief still raw for all of them, Milly is facing the additional awfulness of having to see Luke again – gorgeous, gorgeous Luke, who she had a fling with last year, and who she made a total fool of herself with – or so she thinks. What's going to happen this time? What's more, things between Milly, her sisters and their mum are rocky – Leonie is being tempestuous and unpredictable, Elyse is caught up with her new boyfriend, and Milly feels like she just doesn't know how she fits in any more. 
And lastly I couldn't do this list without mentioning this great read! It really made me feel like I was in Italy, which I loved.
Which books do you love reading on vacation?
-Beth
May your shelves forever overflow with books! ☽
| Goodreads |Instagram | Tumblr | Twitter | YouTube | Facebook | Redbubble |