Stacking the Shelves is a weekly meme hosted by Tynga where we share books we've bought this week. Find out more and join in here!
Hi everyone! This week I bought a few books, one at a signing and a few more cheaply. I'm running out of rooms on my shelves…
Arthur is only in New York for the summer, but if Broadway has taught him anything, it's that the universe can deliver a showstopping romance when you least expect it.
Ben thinks the universe needs to mind its business. If the universe had his back, he wouldn't be on his way to the post office carrying a box of his ex-boyfriend's things.
But when Arthur and Ben meet-cute at the post office, what exactly does the universe have in store for them?
Maybe nothing. After all, they get separated.
Maybe everything. After all, they get reunited.
But what if they can't quite nail a first date . . . or a second first date . . . or a third?
What if Arthur tries too hard to make it work . . . and Ben doesn't try hard enough?
What if life really isn't like a Broadway play?
But what if it is?
I pre-ordered this with my ticket when I went to meet Becky Albertalli and Adam Silvera! I'm so excited to finally get my hands on a copy, and I've just started reading it already.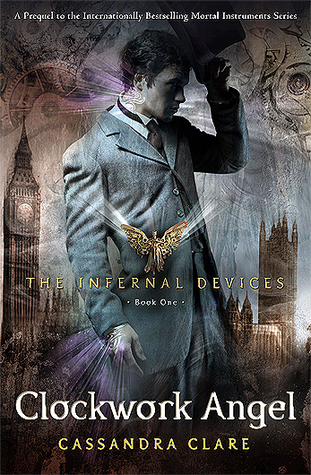 In a time when Shadowhunters are barely winning the fight against the forces of darkness, one battle will change the course of history forever. Welcome to the Infernal Devices trilogy, a stunning and dangerous prequel to the New York Timesbestselling Mortal Instruments series.
The year is 1878. Tessa Gray descends into London's dark supernatural underworld in search of her missing brother. She soon discovers that her only allies are the demon-slaying Shadowhunters—including Will and Jem, the mysterious boys she is attracted to. Soon they find themselves up against the Pandemonium Club, a secret organization of vampires, demons, warlocks, and humans. Equipped with a magical army of unstoppable clockwork creatures, the Club is out to rule the British Empire, and only Tessa and her allies can stop them…
My lovely friend Chloe alerted me that the same bookshop I bought my The Mortal Instruments set from have started selling a set of The Infernal Devices. Of course I couldn't resist picking one up when I walked past that bookshop a couple of days later. Now I'm all ready for my Shadowhunters read over Christmas!
Did you buy any books this week?
-Beth
May your shelves forever overflow with books! ☽
| Goodreads |Instagram | Tumblr | Twitter | YouTube | Facebook | Redbubble |