It's been a week of romance with Valentine's Day – and I couldn't pass on the opportunity to post about some of my favourite cliche romance reads. I'm going for overly cheesy and jam-packed with lovey-dovey teenagers, so if that sounds like your guilty-pleasure, check these out!
The Garretts are everything the Reeds are not. Loud, messy, affectionate. And every day from her rooftop perch, Samantha Reed wishes she was one of them . . . until one summer evening, Jase Garrett climbs up next to her and changes everything.
As the two fall fiercely for each other, stumbling through the awkwardness and awesomeness of first love, Jase's family embraces Samantha – even as she keeps him a secret from her own. Then something unthinkable happens, and the bottom drops out of Samantha's world. She's suddenly faced with an impossible decision. Which perfect family will save her? Or is it time she saved herself?
I read this book just last summer, when my reading tastes were rapidly changing, yet I still absolutely adored it.
Classic movie fan Bailey "Mink" Rydell has spent months crushing on a witty film geek she only knows online as Alex. Two coasts separate the teens until Bailey moves in with her dad, who lives in the same California surfing town as her online crush.
Faced with doubts (what if he's a creep in real life—or worse?), Bailey doesn't tell Alex she's moved to his hometown. Or that she's landed a job at the local tourist-trap museum. Or that she's being heckled daily by the irritatingly hot museum security guard, Porter Roth—a.k.a. her new archnemesis. But life is a whole lot messier than the movies, especially when Bailey discovers that tricky fine line between hate, love, and whatever it is she's starting to feel for Porter.
And as the summer months go by, Bailey must choose whether to cling to a dreamy online fantasy in Alex or take a risk on an imperfect reality with Porter. The choice is both simpler and more complicated than she realizes, because Porter Roth is hiding a secret of his own: Porter is Alex…Approximately.
The absolute definition of guilty pleasure for me, this one was so predictable but I couldn't help falling for it anyway.
Amy Curry is having a terrible year. Her mother is moving all the way across the country and needs Amy to drive their car from California to the East Coast. But since the death of her father, Amy hasn't been able to get behind the wheel of a car. Enter Roger, the son of an old family friend, who turns out to be unexpectedly cute.
I haven't read this book in a while, but it's everything I love about road-trip romance. Including snapshots from a real journey (receipts, photos and playlists), I adored this book.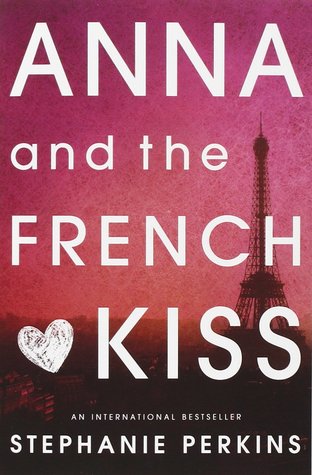 Anna is happy in Atlanta. She has a loyal best friend and a crush on her coworker at the movie theater, who is just starting to return her affection. So she's less than thrilled when her father decides to send her to a boarding school in Paris for her senior year.
But despite not speaking a word of French, Anna meets some cool new people, including the handsome Étienne St. Clair, who quickly becomes her best friend. Unfortunately, he's taken —and Anna might be, too. Will a year of romantic near misses end with the French kiss she's waiting for?
This whole trilogy is cotton candy fluff, and sometimes that's exactly what I need. Cute, sweet and set in the beautiful city of Paris!
Griffin has lost his first love in a drowning accident. Theo was his best friend, his ex-boyfriend and the one he believed he would end up with. Now, reeling from grief and worsening OCD, Griffin turns to an unexpected person for help. Theo's new boyfriend.
But as their relationship becomes increasingly complicated, dangerous truths begin to surface. Griffin must make a choice: confront the past, or miss out on his future.
One of my more recent romance reads but I loved it! I only discovered Adam Silvera's books last year and I'm so glad I did.
Which are your favourite romance reads?
-Beth
May your shelves forever overflow with books! ☽
| Shop | Goodreads | Instagram | Tumblr | Twitter | Facebook |