Stacking the Shelves is a weekly meme hosted by Tynga where we share books we've bought this week. Find out more and join in here!
Hi everyone! This week I have something so special, a bookish gift. Honestly, they are the best kind of gifts aren't they? So my lovely friend Dani messaged me a while ago that she had accidentally preordered two copies of A Curse So Dark and Lonely, and asked if I wanted one. Of course I said yes, and she gave it to me yesterday.
I also received a few books from my other also lovely friend Chloe, and I'll post about them next week! But for now, thank you again Dani and I'm so looking forward to reading this beautiful book.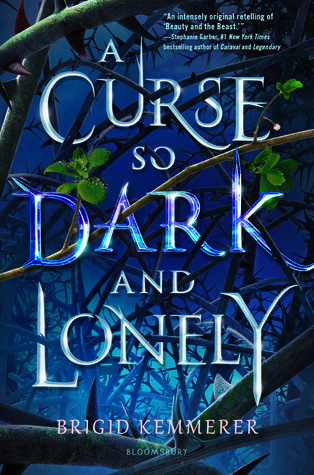 It once seemed so easy to Prince Rhen, the heir to Emberfall. Cursed by a powerful enchantress to repeat the autumn of his eighteenth year over and over, he knew he could be saved if a girl fell for him. But that was before he learned that at the end of each autumn, he would turn into a vicious beast hell-bent on destruction. That was before he destroyed his castle, his family, and every last shred of hope.
Nothing has ever been easy for Harper Lacy. With her father long gone, her mother dying, and her brother barely holding their family together while constantly underestimating her because of her cerebral palsy, she learned to be tough enough to survive. But when she tries to save someone else on the streets of Washington, DC, she's instead somehow sucked into Rhen's cursed world.
Did you buy or receive any books this week?
-Beth
May your shelves forever overflow with books! ☽
| Shop | Goodreads | Instagram | Tumblr | Twitter | Facebook |