As a reader, I've found that I'm definitely one of those people that forgets most of the things that happen in books over time. I guess after you've read 50 books, the 1st you read kind of fades into the background. So there are some books I read like 2 or 3 years (or 100+ books ago) that I want to rekindle the love for! It was hard to split it down to just these few.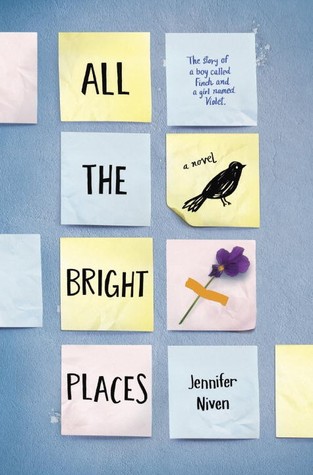 Theodore Finch is fascinated by death, and he constantly thinks of ways he might kill himself. But each time, something good, no matter how small, stops him.
Violet Markey lives for the future, counting the days until graduation, when she can escape her Indiana town and her aching grief in the wake of her sister's recent death.
When Finch and Violet meet on the ledge of the bell tower at school, it's unclear who saves whom. And when they pair up on a project to discover the "natural wonders" of their state, both Finch and Violet make more important discoveries: It's only with Violet that Finch can be himself—a weird, funny, live-out-loud guy who's not such a freak after all. And it's only with Finch that Violet can forget to count away the days and start living them. But as Violet's world grows, Finch's begins to shrink.
This is definitely one of those books I'm scared to re-read in case I don't love it as much as I did the first time, because this book is so significant for me. It completely kickstarted my love for YA, and I actually cried when I met Jennifer Niven a few years ago. But it means so much that I definitely want to attempt it again someday soon.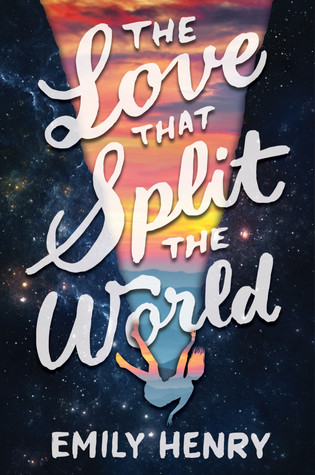 Natalie Cleary must risk her future and leap blindly into a vast unknown for the chance to build a new world with the boy she loves. 
Natalie's last summer in her small Kentucky hometown is off to a magical start… until she starts seeing the "wrong things." They're just momentary glimpses at first—her front door is red instead of its usual green, there's a pre-school where the garden store should be. But then her whole town disappears for hours, fading away into rolling hills and grazing buffalo, and Nat knows something isn't right.
That's when she gets a visit from the kind but mysterious apparition she calls "Grandmother," who tells her: "You have three months to save him." The next night, under the stadium lights of the high school football field, she meets a beautiful boy named Beau, and it's as if time just stops and nothing exists. Nothing, except Natalie and Beau.
I read this book when it was released, and adored it so much I even wrote an open letter to the author. She responded to it, which is definitely a highlight of my time as a blogger so far!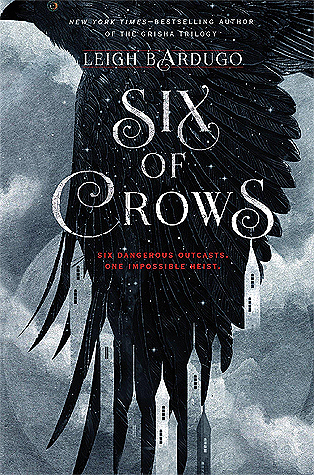 Ketterdam: a bustling hub of international trade where anything can be had for the right price—and no one knows that better than criminal prodigy Kaz Brekker. Kaz is offered a chance at a deadly heist that could make him rich beyond his wildest dreams. But he can't pull it off alone. . . .
A convict with a thirst for revenge
A sharpshooter who can't walk away from a wager
A runaway with a privileged past
A spy known as the Wraith
A Heartrender using her magic to survive the slums
A thief with a gift for unlikely escapes
Kaz's crew is the only thing that might stand between the world and destruction—if they don't kill each other first.
I adored Six of Crows, but I think I would have loved it even more if I'd have read the Grisha trilogy first. So I'm planning on buying and reading that soon and giving this one another go!
This morning, Kady thought breaking up with Ezra was the hardest thing she'd have to do. This afternoon, her planet was invaded.
The year is 2575, and two rival megacorporations are at war over a planet that's little more than an ice-covered speck at the edge of the universe. Too bad nobody thought to warn the people living on it. With enemy fire raining down on them, Kady and Ezra—who are barely even talking to each other—are forced to fight their way onto an evacuating fleet, with an enemy warship in hot pursuit.
But their problems are just getting started. A deadly plague has broken out and is mutating, with terrifying results; the fleet's AI, which should be protecting them, may actually be their enemy; and nobody in charge will say what's really going on. As Kady hacks into a tangled web of data to find the truth, it's clear only one person can help her bring it all to light: the ex-boyfriend she swore she'd never speak to again.
I loved Illuminae as a standalone, but unfortunately I really didn't like the rest of the series. However, I definitely want to re-read this and pretend it's only one book, haha.
Jude and her twin Noah are close until a tragedy drives them apart. Now they are barely speaking – and both are falling for boys they can't have. Love's complicated.
This book was honestly so amazing, I cried at the end just because I was so overwhelmed with love for it. It's definitely one I want to pick up again!
Every dawn brings horror to a different family in a land ruled by a killer. Khalid, the eighteen-year-old Caliph of Khorasan, takes a new bride each night only to have her executed at sunrise. So it is a suspicious surprise when sixteen-year-old Shahrzad volunteers to marry Khalid. But she does so with a clever plan to stay alive and exact revenge on the Caliph for the murder of her best friend and countless other girls. Shazi's wit and will, indeed, get her through to the dawn that no others have seen, but with a catch . . . she's falling in love with the very boy who killed her dearest friend.
She discovers that the murderous boy-king is not all that he seems and neither are the deaths of so many girls. Shazi is determined to uncover the reason for the murders and to break the cycle once and for all.
I read this book so so long ago that I don't remember much (if anything) that happens. But I'd still love to continue with the series so a re-read is in order!
Which books would you like to re-read?
-Beth
May your shelves forever overflow with books! ☽
| Shop | Goodreads | Instagram | Tumblr | Twitter | Facebook |