First of all, a big thank you to Emily for nominating me! I've done this tag a few times over my time as a blogger, but I enjoy doing this one as the questions change every time. So let's get on with it!
Rules:
Thank the blogger who nominated you.
Answer the 11 questions the blogger asked you.
Nominate 11 new blogs to receive the award and write them 11 new questions.
List the rules and display the Sunshine Blogger Award in your post/or on your blog?
11 Questions from Emily
1.Which fictional character do you think best represents you?
I'm probably a cross between Hermione Granger and Luna Lovegood (and also Tessa from The Infernal Devices). I think Hermione reflects most bookworms out there, but I'm definitely a little more eccentric than her!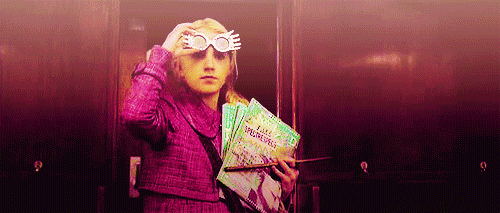 2. Which fictional character do you love, but think would be horrible in real life?
AIDAN from The Illuminae Files is definitely one of my favourite villains, and he has a heart in there somewhere! But I'd be way too scared to meet him in real life (or, like, be in the ship he controls).
3. What's one of your favourite blog posts that you would like to receive a little more love? (Because I want to give it more love!).
The thing I'm most proud of is definitely my bookmark Etsy shop, but seconding that is the masterlist of every book I own! I also still reflect back on my review for A Very Large Expanse of Sea.
4. Do you tend to read only one book at a time, or multiple?
I'm definitely a one-book-at-a-time reader, however I will pick up a non-fiction/uni related book while reading a fiction.
5. Do you ever listen to audiobooks? If so, what do you like about them? If not, why not?
I've actually never listened to an audiobook in my life. I don't know, I just don't see it being for me. I love physical books so much. However I do see why other people love them so much and I should definitely give them a go sometime!
6. What are you reading at the moment? Are you enjoying it?
Interestingly, I've picked up East of Eden by John Steinbeck. I told my lovely boyfriend Josh that he could pick a book for me to read after I finished all my Cassandra Clare books. He recommended me this, and even though I don't really read classics I'm actually enjoying it!
7. Do you have a favourite genre? If so, what is it?
At the moment it's definitely YA/NA fantasy. I used to be a contemporary/romance girl, but I love fantasy at the moment!
8. Who gave you your love of reading?
It's just something I've done as long as I remember – my mum read to me and my brother when we were children, starting with simple Mr Men books and then Enid Blyton. I've read since I could read, and I used to love Roald Dahl! However, my grandad also loves reading and reads about as much as me (if not more).
9. What's your favourite way to relax?
If it's not picking up a book, I love playing a game. At the moment, Stardew Valley is still my go-to game, especially to relax. If I'm stressed out or upset however, I turn to the kitchen and bake!
10. Are there any characters in one of your favourite books that you really don't like?
It took me a long time to like Jessamine from The Infernal Devices – but I think that's intentional on Cassie's part.
11. Do you read nonfiction? If so, what do you like reading the best?
Yes I guess so! I devour everything Harry Potter, including behind the scenes and making of the movies. I also have a specific love for travel books, and I read about photography as it's the subject I'm currently studying at university.
My nominations
My questions
When do you read more, day or night?
How many unread books do you own?
Which 2019 release are you super excited for?
Which authors are on your auto-buy list?
Which book do you hate/dislike and everyone loves?
Name a book or series you'd love to see as a movie or TV show.
How many books are too many in a series?
Name your favourite bookish group of friends. (by this I mean a group of friends in a book, such as the gang from Six of Crows or the boys from The Raven Cycle!)
Which book(s) do you have fond memories of?
What's your favourite bookish map?
Other than reading, what do you love to do?
Thank you for reading and I hope you decide to join me in this tag!
-Beth
May your shelves forever overflow with books! ☽
| Shop | Goodreads | Instagram | Tumblr | Twitter | Facebook |