Beautiful Quotes is a weekly meme hosted by me, where I post some of my favourite quotes. Any other bloggers are welcome to join me in this and just link my blog!
Hello all! I know I usually do a little bit of a personal update with these posts but today we have a mega one. I know I've been a bit off the radar and on-and-off on the blog and social media recently but I've had very good reason too! I know I've been mentioning this for a while so today is the day I spill my big news…I moved house! My boyfriend and I have been in a small flat for the past year and we recently moved into a bigger place. So of course it's been an extremely busy couple of weeks jam-packed with shifting boxes and sorting.
One of the many upsides of this is I'm able to have my bookshelves in our guest room! I've organised my books in a different way to how I used to have them (hence the 'my shelves' page needs a MAJOR overhaul. And might have to go offline for a bit), but I'm so in love with them.
We now have a cute little garden, and our main focus this weekend has been sorting that out. It's been a beautiful, summery weekend and I thought I'd reflect that with a summery book, so today we have a quote from One Italian Summer by Keris Stainton.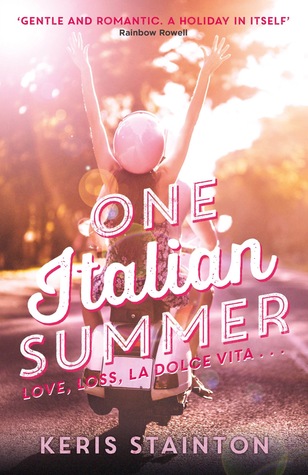 'You're eighteen. You have to start living your own life. That doesn't mean we won't be a family it doesn't mean we're not going to be okay.'
– Keris Stainton, One Italian Summer
-Beth
May your shelves forever overflow with books! ☽
| Shop | Goodreads | Instagram | Tumblr | Twitter | Facebook |