Top 5 Wednesday is a weekly meme hosted by Lainey. You get a new topic every Wednesday, and you list your Top 5 books related to that topic. If you'd like to take part, join the Goodreads group, and add your name to the list of bloggers & booktubers!
Hi everyone! I know what you're thinking – it's not Wednesday! I know, but unfortunately I was too busy to post this on Wednesday and I really didn't want to miss out on doing it, so here I am a few days later. This week's topic of Rainy Day Reads could not be more appropriate for me this week, as England definitely has April Showers.
I've been reading a lot of people's posts from this week as I was really interested in finding out what people class as a rainy day read! To me, atmospheric fantasy is perfect, but occasionally a fluffy contemporary is needed to beat the weather.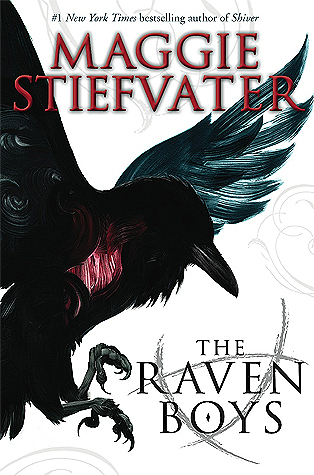 Even if Blue hadn't been told her true love would die if she kissed him, she would stay away from boys. Especially the ones from the local private school. Known as Raven Boys, they only mean trouble.
But this is the year that everything will change for Blue.
This is the year that she will be drawn into the strange and sinister world of the Raven Boys. And the year Blue will discover that magic does exist.
This is the year she will fall in love. 
This series is definitely one of my favourite fantasy series! It's also so atmospheric and perfect for a rainy day.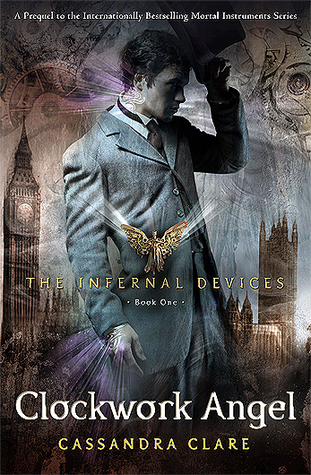 The year is 1878. Tessa Gray descends into London's dark supernatural underworld in search of her missing brother. She soon discovers that her only allies are the demon-slaying Shadowhunters—including Will and Jem, the mysterious boys she is attracted to. Soon they find themselves up against the Pandemonium Club, a secret organization of vampires, demons, warlocks, and humans. Equipped with a magical army of unstoppable clockwork creatures, the Club is out to rule the British Empire, and only Tessa and her allies can stop them…
I'm sure you guys know that I love all of Cassie's books, but The Infernal Devices is definitely perfect for rainy days. There's something about the setting of Victorian London that I just adore for rainy day reads.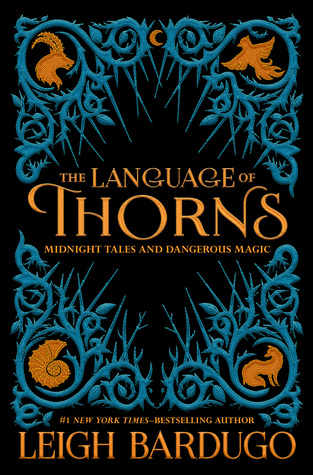 Travel to a world of dark bargains struck by moonlight, of haunted towns and hungry woods, of talking beasts and gingerbread golems, where a young mermaid's voice can summon deadly storms and where a river might do a lovestruck boy's bidding but only for a terrible price.
Inspired by myth, fairy tale, and folklore, #1 New York Times–bestselling author Leigh Bardugo has crafted a deliciously atmospheric collection of short stories filled with betrayals, revenge, sacrifice, and love.
Perfect for new readers and dedicated fans, these tales will transport you to lands both familiar and strange—to a fully realized world of dangerous magic that millions have visited through the novels of the Grishaverse.
This collection of six stories includes three brand-new tales, all of them lavishly illustrated with art that changes with each turn of the page, culminating in six stunning full-spread illustrations as rich in detail as the stories themselves.
I couldn't write this post without including something from Leigh Bardugo – so here we are. Her short story collection is just so beautiful and magical.
The circus arrives without warning. No announcements precede it. It is simply there, when yesterday it was not. Within the black-and-white striped canvas tents is an utterly unique experience full of breathtaking amazements. It is called Le Cirque des Rêves, and it is only open at night. 
But behind the scenes, a fierce competition is underway—a duel between two young magicians, Celia and Marco, who have been trained since childhood expressly for this purpose by their mercurial instructors. Unbeknownst to them, this is a game in which only one can be left standing, and the circus is but the stage for a remarkable battle of imagination and will. Despite themselves, however, Celia and Marco tumble headfirst into love—a deep, magical love that makes the lights flicker and the room grow warm whenever they so much as brush hands. 
True love or not, the game must play out, and the fates of everyone involved, from the cast of extraordinary circus performers to the patrons, hang in the balance, suspended as precariously as the daring acrobats overhead. 
Talking of magic, The Night Circus has got to be the most setting/location heavy and also atmospheric book I've ever read. I adore it.
What if all the crushes you ever had found out how you felt about them…all at once? Sixteen-year-old Lara Jean Song keeps her love letters in a hatbox her mother gave her. They aren't love letters that anyone else wrote for her; these are ones she's written. One for every boy she's ever loved—five in all. When she writes, she pours out her heart and soul and says all the things she would never say in real life, because her letters are for her eyes only. Until the day her secret letters are mailed, and suddenly, Lara Jean's love life goes from imaginary to out of control. 
The last book is definitely a change of tune! Of course, some rainy days demand a pick-me-up, and I remember watching the movie adaptation on a day when I was sick and not feeling very well.
Which rainy day reads would you recommend?
-Beth
May your shelves forever overflow with books! ☽
| Shop | Goodreads | Instagram | Tumblr | Twitter | Facebook |