Stacking the Shelves is a weekly meme hosted by Tynga where we share books we've bought this week. Find out more and join in here!
Hi everyone! If you follow me on Instagram you may know that I was in London last weekend to see Harry Potter and the Cursed Child (I promise I will blog about this VERY soon)! I had a really good time and also got to visit a few bookshops, including my new favourite, Foyles Charing Cross. I was so overwhelmed by the wide variety of YA, and so many different editions, I honestly nearly cried (how sad am I).
It was so hard to stop myself from buying ALL of the books, but I managed to pick up just one American edition I've been wanting since before it's release – Emergency Contact. I adore this cover and the floppy US edition also has a gorgeous metallic gold strip down the side! How could I resist?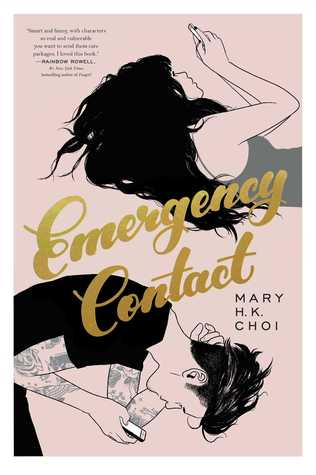 For Penny Lee high school was a total nonevent. Her friends were okay, her grades were fine, and while she somehow managed to land a boyfriend, he doesn't actually know anything about her. When Penny heads to college in Austin, Texas, to learn how to become a writer, it's seventy-nine miles and a zillion light years away from everything she can't wait to leave behind.
Sam's stuck. Literally, figuratively, emotionally, financially. He works at a café and sleeps there too, on a mattress on the floor of an empty storage room upstairs. He knows that this is the god-awful chapter of his life that will serve as inspiration for when he's a famous movie director but right this second the seventeen bucks in his checking account and his dying laptop are really testing him.
When Sam and Penny cross paths it's less meet-cute and more a collision of unbearable awkwardness. Still, they swap numbers and stay in touch—via text—and soon become digitally inseparable, sharing their deepest anxieties and secret dreams without the humiliating weirdness of having to see each other.
Have you bought any books this week?
-Beth
May your shelves forever overflow with books! ☽
| Shop | Goodreads | Instagram | Tumblr | Twitter | Facebook |