Stacking the Shelves is a weekly meme hosted by Tynga where we share books we've bought this week. Find out more and join in here!
Another week and the YALC craziness continues! I bought another few books in preparation for the event this week, and I'm super excited for them.
Goodreads | Pre Order on Amazon
In the tropical kingdom of Rhodaire, magical, elemental Crows are part of every aspect of life…until the Illucian empire invades, destroying everything.
That terrible night has thrown Princess Anthia into a deep depression. Her sister Caliza is busy running the kingdom after their mother's death, but all Thia can do is think of all she has lost.
But when Caliza is forced to agree to a marriage between Thia and the crown prince of Illucia, Thia is finally spurred into action. And after stumbling upon a hidden Crow egg in the rubble of a rookery, she and her sister devise a dangerous plan to hatch the egg in secret and get back what was taken from them.
But before my YALC books, I was pleasantly surprised to find an ARC copy of The Storm Crow delivered yesterday! Thank you to Sourcebooks Fire, I can't wait to read this next.
A century ago, scientists theorised that a habitable planet existed in a nearby solar system. Today, ten astronauts will leave a dying Earth to find it. Four are decorated veterans of the 20th century's space-race. And six are teenagers, graduates of the exclusive Dalton Academy, who've been in training for this mission for most of their lives.
It will take the team 23 years to reach Terra-Two. Twenty-three years spent in close quarters. Twenty-three years with no one to rely on but each other. Twenty-three years with no rescue possible, should something go wrong. And something always goes wrong.
I found this debut through YALC, and it sounds like something I'd love. I just ordered it today so I can read it before the event!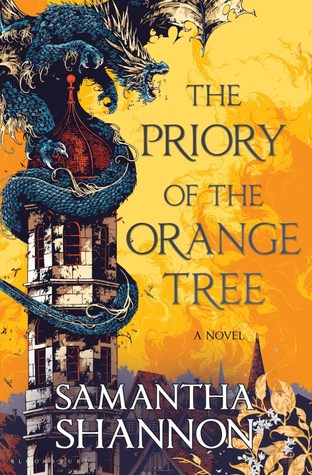 The House of Berethnet has ruled Inys for a thousand years. Still unwed, Queen Sabran the Ninth must conceive a daughter to protect her realm from destruction—but assassins are getting closer to her door.
Ead Duryan is an outsider at court. Though she has risen to the position of lady-in-waiting, she is loyal to a hidden society of mages. Ead keeps a watchful eye on Sabran, secretly protecting her with forbidden magic.
Across the dark sea, Tané has trained all her life to be a dragonrider, but is forced to make a choice that could see her life unravel.
Meanwhile, the divided East and West refuse to parley, and forces of chaos are rising from their sleep.
I've been hesitant about this one for a while – I've seen the hype and then seen the book in shops and almost picked it up, but God is it daunting. I'm not sure if I'll read it before YALC, but I knew I'd regret not having it signed!
Did you buy any books this week?
-Beth
May your shelves forever overflow with books! ☽
| Shop | Goodreads | Instagram | Tumblr | Twitter | Facebook |