Stacking the Shelves is a weekly meme hosted by Tynga where we share books we've bought or received this week. Find out more and join in here!
Hi all! I've been slightly better about buying books in the past couple of weeks (I think). I definitely feel like I've been restraining myself a little better when it comes to purchasing!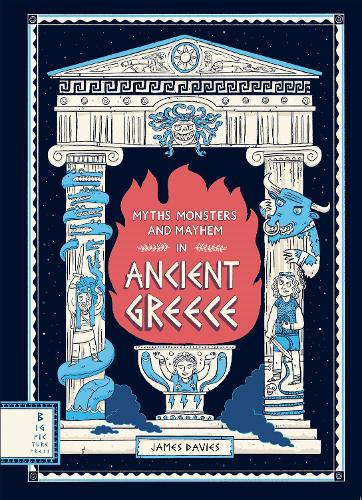 I was also sent this beautiful picture book about Greek Mythology, which feels like exactly what I need. Thank you to the publishers, Templar, for sending me a copy!
I was also sent the second Deadly Education book by the publishers – thank you Cornerstone! I'm hoping it gives me the motivation to pick up the first book.
A young woman picks up a book left behind by a stranger. Inside it are his margin notes, which reveal a reader entranced by the story and by its mysterious author. She responds with notes of her own, leaving the book for the stranger, and so begins an unlikely conversation that plunges them both into the unknown.
THE BOOK: Ship of Theseus, the final novel by a prolific but enigmatic writer named V. M. Straka, in which a man with no past is shanghaied onto a strange ship with a monstrous crew and launched onto a disorienting and perilous journey.
THE WRITER: Straka, the incendiary and secretive subject of one of the world's greatest mysteries, a revolutionary about whom the world knows nothing apart from the words he wrote and the rumours that swirl around him.
THE READERS: Jennifer and Eric, a college senior and a disgraced grad student, both facing crucial decisions about who they are, who they might become, and how much they're willing to trust another person with their passions, hurts, and fears.
I recently found out a copy of this book had been sent into the bookshop I work in and couldn't resist picking up. It's the only book I will admit to buying because of Tiktok!
Way out in the furthest part of the known world, a tiny stronghold exists all on its own, cut off from the rest of human-kin by monsters that lurk beneath the Snow Sea.
There, a little boy called Ash waits for the return of his parents, singing a forbidden lullaby to remind him of them… and doing his best to avoid his very, VERY grumpy yeti guardian, Tobu.
But life is about to get a whole lot more crazy-adventurous for Ash.
When a brave rescue attempt reveals he has amazing magical powers, he's whisked aboard the Frostheart, a sleigh packed full of daring explorers who could use his help. But can they help him find his family . . . ?
My friend at work recently got rid of her copy of Frostheart and after hearing Gav from How To Train Your Gavin talking about this series, I decided to pick it up!
Enter a school of magic unlike any you have ever encountered.
There are no teachers, no holidays, friendships are purely strategic, and the odds of survival are never equal.
Once you're inside, there are only two ways out: you graduate or you die.
El Higgins is uniquely prepared for the school's many dangers. She may be without allies, but she possesses a dark power strong enough to level mountains and wipe out untold millions – never mind easily destroy the countless monsters that prowl the school.
Except, she might accidentally kill all the other students, too. So El is trying her hardest not to use it… that is, unless she has no other choice.
I also swapped my Illumicrate copy of A Deadly Education for the standard hardback copy, mainly because it matches my proof of The Last Graduate really well. I also found the Illumicrate edition stood out on my shelves because of the gold colour it was, and it is one of very few books I'm finding I prefer the standard hardback overall!
Which books did you buy or receive this week?
-Beth
May your shelves forever overflow with books! ☽
Shop | Booktube | Goodreads | Instagram | Tumblr | Twitter | Facebook