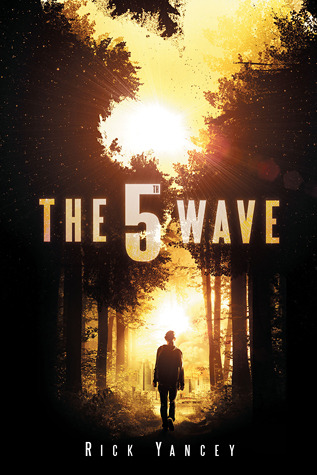 Goodreads | Amazon
Edition: 457 pages, published May 7th 2013 by G.P. Putnam's Sons Books for Young Readers
Synopsis: After the 1st wave, only darkness remains. After the 2nd, only the lucky escape. And after the 3rd, only the unlucky survive. After the 4th wave, only one rule applies: trust no one.
Now, it's the dawn of the 5th wave, and on a lonely stretch of highway, Cassie runs from Them. The beings who only look human, who roam the countryside killing anyone they see. Who have scattered Earth's last survivors. To stay alone is to stay alive, Cassie believes, until she meets Evan Walker. Beguiling and mysterious, Evan Walker may be Cassie's only hope for rescuing her brother–or even saving herself. But Cassie must choose: between trust and despair, between defiance and surrender, between life and death. To give up or to get up.
This has been sat on my shelf for a while. And by a while, I mean since September. Oops.
To tell the truth, I was putting it off. Not only is it of a genre I normally don't read, it's also 457 pages long. I've read longer, but it does still seem quite daunting – right?
But then, it always seems to be the ones that you put off for so long that end up being the best…
The plot…has so many twists and turns. I was actually shocked I could keep on my toes and follow the entire time. I guess that depends on the writing and character building. I felt like I could see what was happening, to the point of almost gagging and a couple of gruesome parts!
The characters…are very well built. Honestly, I felt so close to Cassie and I really felt her pain, her happiness, her sadness. But mostly, her pain. It was extremely vivid.
The writing…is extraordinary. I know, I know – I say this a lot. But this one put other books to shame – even one's I've also rated 5 moons.
I have to really admire Rick for the amazing creation of this…parallel universe, I guess. One identical to the one we know today, but completely different is so many ways. The writing really makes that vivid, and understandable.
Something I liked…is the short chapters. Not only did it make the book more managable, but it also made the pages seem like they were turning themselves. This is a rating on the back of the book (about the turning pages thing), which at first I didn't understand. Pages turning themselves? What?
Well, this was explained as soon as I started reading. It takes so little time to read just a chapter, you just want to keep carrying on reading. And there really is no other way to describe it – the pages really do turn themselves.
Something I disliked…has to be the sudden character changes by section. Every 10-50 pages (or so) there was a change in POV, and suddenly the book was being written by another character. There wasn't any issues with this – it gave the book a good edge – it just took a page (or 5) to realise who had started telling the next part, and then get into the new writing.
My rating is…
☽ ☽ ☽ ☽ ☽
5 out of 5 moons
-Beth
May your shelves forever overflow with books! ☽
Email: thebooksareeverywhere@hotmail.com
YouTube: https://www.youtube.com/channel/UCAxTaRxPaXCXsgXs2xC4CIg
Instagram: @thebooksareeverywhere
Twitter: @tbaeblog
Tumblr: The Books Are Everywhere