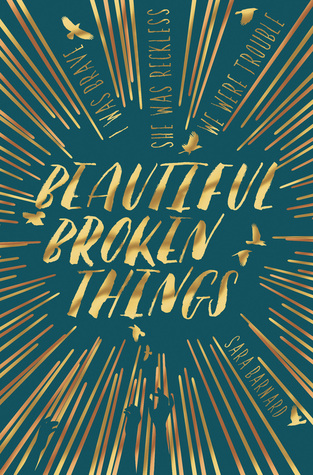 Goodreads | Amazon
Edition: Paperback, 322 pages, published February 25th 2016 by Macmillan Children's Books (UK)
Synopsis: Best friends Caddy and Rosie are inseparable. Their differences have brought them closer, but as she turns sixteen Caddy begins to wish she could be a bit more like Rosie – confident, funny and interesting. Then Suzanne comes into their lives: beautiful, damaged, exciting and mysterious, and things get a whole lot more complicated. As Suzanne's past is revealed and her present begins to unravel, Caddy begins to see how much fun a little trouble can be. But the course of both friendship and recovery is rougher than either girl realises, and Caddy is about to learn that downward spirals have a momentum of their own.
I never expected a book about best friends to be this good. When I read contemporary I always like to have a bit of romance rather than fighting friends, but this one really surpassed my expectations.
The plot…I loved it! It was interesting and exciting, with plot twists and turns all over the place. It made me really want to find out what was going to happen between the three of them!
The characters…I loved them. There was part of me that could have absolutely hated Caddy purely for the annoying and immature decisions she made at some points – but there was a massive part of me that understood them, too. And that's what stopped me. I could relate to her more than I could possibly dislike her.
The writing…I knew from the start was going to be great. It manages to be both beautiful and relatable at the same time. Sort of extra-ordinary but normal…how does one pull that off?
Something I liked…the ending. It gave an overwhelming sense of hope – something I really like at the end of a book. Sometimes, there needs to be optimism for the future rather than a happy ending…it makes the reader think about the book and keeps it in their heart for longer – does that make sense?
Oh, and I also loved the British-ness about this novel! It has the perfect balance of being relatable to anyone in the UK but not so classicly British that other people wouldn't understand it.
Talking about balance…that's another thing that stood out for me. Sara somehow managed to make everything…balance. It's hard to explain, but she perfectly countered friendship and emotion,  the complication and simpleness of love and family, heavy, beautiful writing with lighthearted sarcastic conversations.
Something I didn't like…it could have very easily been Caddy at certain points – but no. Sara has such skill there, in creating a relatable character who can still make bad decisions but seem good-natured at the same time. So, other than that, probably the start of the book. Not anything in particular, but just that I found it a little slow to get into – if I'm being picky!
My thoughts…I was quite surprised at this book. I never thought I would be able to feel such emotion in friendship – and I never thought an author could create such beauty in the process. In fact, I didn't even expect for the complicated beauty of friendship to ever even be able to be explained by words…but Sara suceeded and surpassed anything I could have ever hoped for.
My rating is…
☽ ☽ ☽ ☽
4 out of 5 moons
-Beth
May your shelves forever overflow with books! ☽
---
---
---