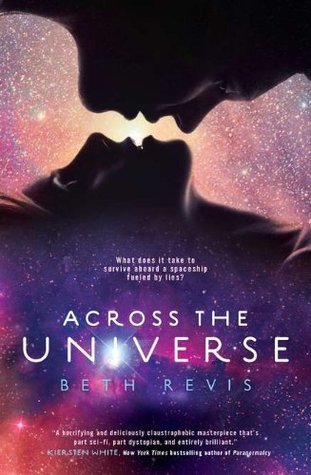 Edition: Hardcover, 398 pages, published January 11th 2011 by Razorbill
Synopsis (from back cover): Amy has left the life she loves for a world 300 years away.
Trapped in space and frozen in time. Amy is bound for a new planet. But fifty years before she's due to arrive, she is violently woke, the victim of an attempted murder. Now Amy's lost on board and nothing makes sense – she's never felt so alone.
Yet someone is waiting for her
He wants to protect her –
and more if she'll let him.
But who can she trust amidst the secrets and lies? A killer is out there – and Amy has nowhere to hide…
My lovely best friend Emma bought this book for me for Christmas, and I've finally got round to reading it! I just want to say thank you, Em, it was amazing!!
The plot…is so captivating! This book is a real page-turner, and I felt like the book was going past so fast because I just couldn't help but want to keep reading so fast!
The characters…I love Elder – his love for Amy just makes him seem so sweet. The characters are so well built, I honestly felt like they had full control over what I, as the reader, thought about them – and she could make that change in an instant. I'd literally feel angry one minite and happy the next.
The writing…ahh! It's so good! Like I mentioned above, I felt like the pages were turning all on their own! It's just so amazing, intruiging and insanely captivating – and all of this is because of the crazy-good writing.
Something I liked…I love how this book is dystopian and action filled but also with a twist. I've read a lot of dystopian books and found them all quite similar, in fact they all blur into one colour. But then there's this one, completely different and bright, overtaking all of the other colours to rise out of the ashes. THIS BOOK DESERVES MORE CREDIT!!
Something I disliked…well, it took me a while to get used to the different words. I'm sure you've all come across it, but in a lot of YA fantasy/dystopian novels, swearing will be replaced. Honestly? It just makes me want to throw the book across the room and shout "WE'RE TEENAGERS. WE KNOW WHAT THE WORD F*CK MEANS"!
My rating is…
☽ ☽ ☽ ☽
4.5 out of 5 stars
-Beth
May your shelves forever overflow with books! ☽
---
---
---