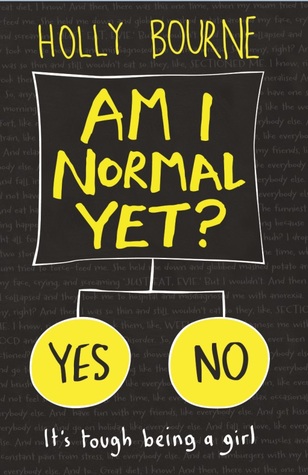 Edition: Paperback, 434 pages, published August 1st 2015 by Usborne
Synopsis: All Evie wants is to be normal. She's almost off her meds and at a new college where no one knows her as the girl-who-went-crazy. She's even going to parties and making friends. There's only one thing left to tick off her list…
But relationships are messy – especially relationships with teenage guys. They can make any girl feel like they're going mad. And if Evie can't even tell her new friends Amber and Lottie the truth about herself, how will she cope when she falls in love?
I was lucky enough to meet the lovely Holly Bourne on Sunday at YALC! I've had my eye on her books for a while, and YALC finally pushed me to read one of hers. Turns out I'm very glad I did!
The plot…I loved it! I won't give too much away, but I really liked that the ending of this book wasn't perfect, at least not 100%. It gave (and showed) hope, and honestly, I think that was the best way this book could have ended!
The characters…omg Evie! I loved her! She was just such a real teenager, and the fact that she made so many mistakes was awesome! She doesn't hold anything back, and that makes the book very relatable – I almost felt like I was inside Evie's head. And to get OCD like that, to understand her mental health so easily…Bourne has skill for that.
The writing…as with the rest of the book, it was so real and relatable. The reason I felt so close to Evie was all because of the writing. It was just…awesome.
Something I liked…the fact that I felt everything. Every up and down, consideration, thought, embarrassment, feeling. Every emotion, I second hand felt.
Something I disliked…I don't think there really was anything! If anything, this book felt so real it was slightly underwhelming. It was, basically, a diary. I'm not saying that's a bad thing…it just wasn't as, perhaps, incredible or shocking as other books.
My rating is…
☽ ☽ ☽ ☽
4 out of 4 moons
-Beth
May your shelves forever overflow with books! ☽
---
---
Save
Save
Save
Save
Save
Save
Save