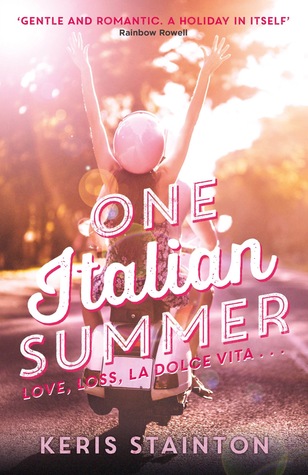 It's been a year since Milly, Elyse and Leonie's dad died, and a year since their last trip to Rome. Summer's here again, and once again they are heading with their mum to Italy – but what's it going to be like going without Dad? Rome still holds its familiar charms – the sun is still as warm, the gelato as delicious, the people as welcoming. But nothing is quite as it once was …
With grief still raw for all of them, Milly is facing the additional awfulness of having to see Luke again – gorgeous, gorgeous Luke, who she had a fling with last year, and who she made a total fool of herself with – or so she thinks. What's going to happen this time? What's more, things between Milly, her sisters and their mum are rocky – Leonie is being tempestuous and unpredictable, Elyse is caught up with her new boyfriend, and Milly feels like she just doesn't know how she fits in any more.
Over one Italian summer, can Milly find a way back to the life she once had?
Disclaimer: I received this book from Hot Key UK in exchange for an honest review. This has not changed my views in any way.
It's safe to say I loved this book. It was the perfect romance/contemporary and holiday read. As I explained in my video above, I loved most aspects of this book, and they all fit so well together.
The plot flowed pretty well. A week or two is a great time frame for a holiday read, and it really made me feel close to the characters and the setting!
The setting was one of my favourite parts of this book, and it really felt like I was, as a reader, in the setting and with the characters. This reminded me of Anna and the French Kiss, which also has a great representation of the setting.
Moving onto the characters, I really liked Milly. She felt real and relatable, struggling with many different things we feel day-to-day. She was a typical teenager with a love interest, but it really kind of worked. I really like that the entire book wasn't completely focused on romance and it allowed room for other thoughts and feelings.
Some of these were really well represented, including worrying, paranoia and coping with grief from overcoming her dad's death. The side characters were really well written, meaning a I found out about a lot of stories within the novel without being confused!
The only tiny gripe I could pick up in this book was the slight bit of insta-love, but I can't really complain too much. As with much of the book, the love progressed with the story and it worked too!
Overall, I really liked this book. I didn't want to finish it, and I actually avoided reading it for a while because I didn't want to leave this story! I would definitely recommend it to anyone who loves YA contemporary, romance and holiday reads.
I give One Italian Summer:
★★★★
-Beth
May your shelves forever overflow with books! ☽
| Goodreads |Instagram | Tumblr | Twitter | YouTube | Facebook | Redbubble |
Save