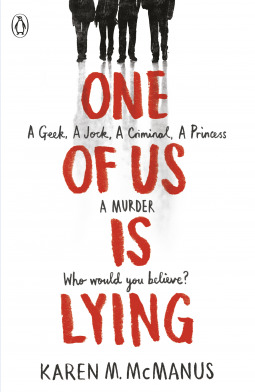 Yale hopeful Bronwyn has never publicly broken a rule.
Sports star Cooper only knows what he's doing in the baseball diamond.
Bad body Nate is one misstep away from a life of crime.
Prom queen Addy is holding together the cracks in her perfect life.
And outsider Simon, creator of the notorious gossip app at Bayview High, won't ever talk about any of them again.
He dies 24 hours before he could post their deepest secrets online. Investigators conclude it's no accident. All of them are suspects.
Everyone has secrets, right?
What really matters is how far you'll go to protect them.
Doesn't the concept of this book sound incredible? I've been intrigued by it for so long – I'm so glad I wasn't disappointed. There are so many elements of this book that could have gone wrong but didn't. Let's start with the simple stuff – this book is from the viewpoint of four different characters. Was it confusing? No.
All of these characters were separate, and I knew them easily from one another. I felt like one of their friends. To say that I felt like the friends of murder suspects, people who cheated and lied, is a big thing. I always have a tendency to hate characters that, for example, cheat. I have barriers, but McManus managed to break them down.
"I stand and hold out my hand. She gives me a skeptical look, but takes it and lets me pull her to her feet. I put my other hand in the air."
So the character development was incredible – but not just that. The plot was clever, well paced and just awesome. This book would make an amazing TV show. The pages flew by, and the suspense really shone through. As one should with books such as these, I really wanted to know what was going on. And one of the best things is I didn't guess. I honestly didn't know the outcome until the very end.
"'Bronwyn Rojas, I solemnly swear not to murder you today or at any point in the future. Deal?'"
It's so hard to write a review for a book you thought everything was great in. I honestly don't have anything to critique! I love the low-key romance and LGBTQIA+ elements of this novel, along with the character development and depth, suspense and writing. The whole thing didn't even feel far-fetched with the amount of drama that goes on with teenagers today.
"'You're ridiculous,' she mutters, going even redder.
'It concerns me you're avoiding a promise not to murder me."
If I had to critique anything, I would say the amount of characters became slightly confusing. But even saying that, it didn't change how I feel about this novel. All I can say is the hype this book appears to be achieving is definitely worth it – it won't let you down!
★★★★★
-Beth
May your shelves forever overflow with books! ☽
| Goodreads |Instagram | Tumblr | Twitter | YouTube | Facebook | Redbubble |