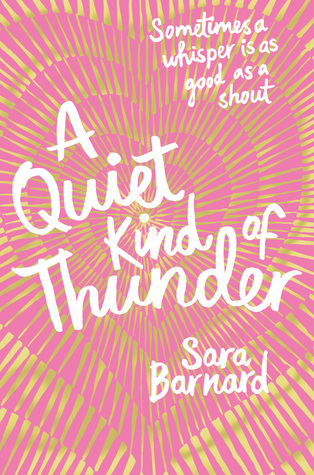 Steffi doesn't talk, but she has so much to say.
Rhys can't hear, but he can listen.
Their love isn't a lightning strike, it's the rumbling roll of thunder.
Steffi has been a selective mute for most of her life – she's been silent for so long that she feels completely invisible. But Rhys, the new boy at school, sees her. He's deaf, and her knowledge of basic sign language means that she's assigned to look after him. To Rhys, it doesn't matter that Steffi doesn't talk, and as they find ways to communicate, Steffi finds that she does have a voice, and that she's falling in love with the one person who makes her feel brave enough to use it. 
I knew I liked Sara Barnards writing and style. But I had no idea how much this book would blow me away.
This book astounded me on so many levels, I don't even know where to start. I'm just going to have to go through them all.
"Here are three separate but similar things: shyness, introversion and social anxiety. You can have one, two or all three of these things simultaneously."
I'll start with the thing that stands out about this book the most. In A Quiet Kind of Thunder, Steffi suffers from selective mutism and her love interest, Rhys, is deaf. They communicate through BSL (British Sign Language). On a personal level, this really resonated with me. My career dream is to work as a teacher or in learning support, so I have actually considered learning BSL or ASL (American Sign Language) in the past. I know basic BSL (the alphabet/numbers etc) and I understand the complete importance and flow of it, and I love how that shone through in this novel.
But BSL isn't just something that makes this novel unique – although I find it amazing that Barnard chose to write about it. It completely changes the lives of both Steffi and Rhys, and impacts the way they grow together. I really admire Barnard for taking such a big plunge and writing their story. I am so grateful to her.
Another of the struggles Steffi faces is anxiety. As an ex-sufferer myself of separation anxiety and a sufferer of anxiety, I was astounded by how well Barnard wrote about Steffi's panic attacks and general anxiety. I can fortunately say I have only suffered one (serious) panic attack in my recent years, but this does mean I completely related to Steffi on a personal level.
"A lot of the time people think they're all the same thing, but that's just not true."
All that aside, there were so many other things that stood out about this novel. For one – friends and family! Yes, friends and family are often mentioned in YA. But this novel was just something else. I know from Beautiful Broken Things that Barnard does a good job writing about teenage friendships, but she went above and beyond my expectations with Tem. Tem is Steffi's best friend, and I love the dynamic between her and Steffi in this novel. It added something fresh and interesting that I really don't often come across in YA, and I absolutely loved having that relationship in A Quiet Kind of Thunder.
It wasn't just Rhys and Steffi's friends that stood out to me. I love the relationship Steffi and Rhys had with their families and how they all bounced off one another beautifully. I also loved Steffi's interest in animals and Rhys's love for video games. It rounded out their characters and made the story not just about romance.
"Extroverts can be shy, introverts can be bold, and a condition like anxiety can strike whatever kind of social animal you are."
So to finish up, let's talk a bit about the romance. Was it insta? Kind of, but it felt so different. Steffi and Rhys had a lot of issues and faced many struggles. This made their relationship feel layered and somehow much more real. I loved Steffi and Rhys. I loved them falling in love and their adventures together. It was tentative, sweet and it honestly made me cry. I feel honoured to have been welcomed into their world.
Overall? This book really feels special to me. It shows anxiety in a way I haven't seen before in YA, and showcased an incredibly important story. I fell in love with Steffi, Rhys, Rita (Steffi's dog) and every other little thing about this novel. It's one I will hold close to my heart for a long time.
★★★★★
-Beth
May your shelves forever overflow with books! ☽
| Goodreads |Instagram | Tumblr | Twitter | YouTube | Facebook | Redbubble |