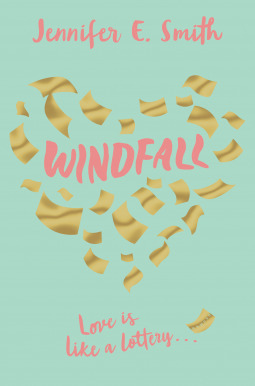 Alice doesn't believe in luck—at least, not the good kind. But she does believe in love, and for some time now, she's been pining for her best friend, Teddy. On his eighteenth birthday—just when it seems they might be on the brink of something—she buys him a lottery ticket on a lark. To their astonishment, he wins $140 million, and in an instant, everything changes.
At first, it seems like a dream come true, especially since the two of them are no strangers to misfortune. As a kid, Alice won the worst kind of lottery possible when her parents died just over a year apart from each other. And Teddy's father abandoned his family not long after that, leaving them to grapple with his gambling debts. Through it all, Teddy and Alice have leaned on each other. But now, as they negotiate the ripple effects of Teddy's newfound wealth, a gulf opens between them. And soon, the money starts to feel like more of a curse than a windfall.
As they try to find their way back to each other, Alice learns more about herself than she ever could have imagined . . . and about the unexpected ways in which luck and love sometimes intersect.
Considering the length of this book (over 400 pages!), I'm surprised how it sped by for me. I read it in around a day, and read around half of it during a 3 hour flight.
I loved a lot of things about this book, but I also had a few annoyances. As contemporaries are, it was pretty middle of the road, I guess. It wasn't over-the-top with incredible writing and pieces. But it wasn't underwhelming, either.
Let's start by saying I felt mixed about the characters. I liked Alice, and I loved Leo and Max. It was great to have LGBT side-characters that didn't feel there just to make the book politically correct. But Teddy. Ugh, Teddy. I kind of had a love-hate relationship with Alice's love interest. For one, he turns into a bit of a douche. Yes, he's only 18 and he's obviously over-excited about winning so much money. But the way he spends it and strings Alice along quite a bit just got on my nerves.
"We have all sorts of words that could describe us."
Unfortunately, Alice also annoyed me a little bit in some parts. Yes, both her and Teddy had been through a lot and she obviously was battling with demons of her own. But I felt like she also strung a certain character along because she couldn't face that Teddy didn't want her.
However, I loved the concept of this book. YA can be pretty restricted now with ideas and plot lines, so the lottery idea felt fresh and interesting. I also liked the pacing. Rather than go through everything in too much detail day-by-day, the book jumped whole weeks, and it worked. I didn't feel like I was missing out on anything and it made the book pass pretty quickly.
"But we get to choose which ones are most important." 
I also like the topics discussed in this book. It made the book real and relatable, even if it was a little hard-hitting at times.
I can't say I didn't enjoy this one. I really did, and I'd recommend it to romance/contemporary readers! I'll definitely be reading more of Smith's work – this one just felt a little lacking and gets a mixed review from me.
★★★
-Beth
May your shelves forever overflow with books! ☽
| Goodreads |Instagram | Tumblr | Twitter | YouTube | Facebook | Redbubble |