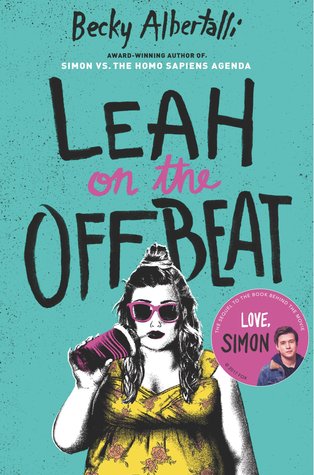 When it comes to drumming, Leah Burke is usually on beat—but real life isn't always so rhythmic. An anomaly in her friend group, she's the only child of a young, single mom, and her life is decidedly less privileged. She loves to draw but is too self-conscious to show it. And even though her mom knows she's bisexual, she hasn't mustered the courage to tell her friends—not even her openly gay BFF, Simon.
So Leah really doesn't know what to do when her rock-solid friend group starts to fracture in unexpected ways. With prom and college on the horizon, tensions are running high. It's hard for Leah to strike the right note while the people she loves are fighting—especially when she realizes she might love one of them more than she ever intended.
I didn't think I was going to read this book – I was just unsure that it was my thing as I'm getting older and my reading tastes are developing, but I'm so glad I did! It was a combination of loving The Upside of Unrequited and @bookish_and_proud (shoutout to Becky!) enjoying it that made me finally picking up, and it was definitely worth it.
"Imagine going about your day knowing someone's carrying you in their mind."
In some ways, this book was exactly how I expected it to be. It was angsty, cheesy and cliche, but I also loved it. I'm trying to be honest with myself here, and be honest with you guys too, so I'll just come out with it. I really want to be cultured, and educated, and have an obsession with classics and other  books that will shape me as a person. But I honestly really love a good YA contemporary, so here we are. This book was my guilty pleasure in written form.
First of all, Leah. I loved her, she was so relatable and badass and I really found myself enjoying reading about her character. But I have to say, she was also incredibly…brash? I don't really know how to describe her, but she really needs to learn to forgive and stop holding so many grudges. I get it, I can be like her as a person too, but sometimes it just annoyed me a little how she seemed to hate people for no reason (*cough* Wells *cough*).
"That has to be the best part of being in love- the feeling of having a home in some else's brain."
But that really has to be the only downside of Leah on the Offbeat, because I couldn't help but love the rest. It's cliche, but it also has a balance of deep, meaningful stuff which is really true about growing up. But what I really loved about these books was the laughter. I find it really, truly difficult to laugh-out-loud at books, but this one really tickled me. I kept having to stop and recite funny passages to my boyfriend.
On top of it being so funny, it was also so current! I found myself giving a little fist-pump when I saw Troye Sivan was mentioned. It warmed my heart at every single Harry Potter reference. I melted when I saw a reference to Six of Crows. I'm going to have to stop, because I loved this book so much I could go on and on about it, so I will say one last thing – I love how this book is in the same world as Simon vs. and The Upside of Unrequited. And I love how they're not direct sequels, because there is no pressure to go back and remember what happened in Simon vs!
★★★★
4 stars
-Beth
May your shelves forever overflow with books! ☽