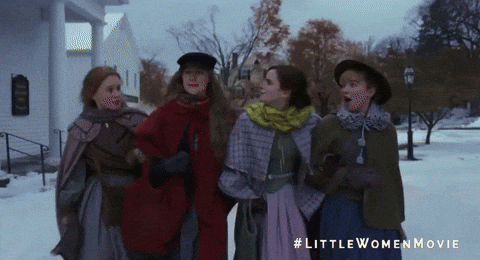 I wasn't going to write a review or any kind of post for this movie, due to the pure fact I have never read the book. But after my third viewing of it in cinema, I knew I couldn't resist any longer. I have to talk about my admiration for this cinematic masterpiece.
This film is just absolutely beautiful in every way. The scenery is superb. The lighting is lovely. The girls have my heart. I saw some of myself in each one of them, and I think that's what makes this story so special. Jo's spark, soul and courageous wit is who I think we all aspire to be. Beth's caring nature is who I hope I am every day. Meg's love for her family and John shines through, and I know in my heart I am and will be like her in many ways. Amy's lust for life and raucous, somewhat unsettled character touched my heart. And although I could go on, I will finish on marmee, who I relate to on so many levels, but especially the 'I bake scones at midnight and don't mind the mess, we don't'.
The energy in this film is electric, and I fell in love with the chaotic scenes between the girls. I often felt like Laurie, looking in on the family with adoration and wonder. He seemed to be almost yearning to be part of it all, to have the unrequited love that only occurs between family.
Everything seemed to fit seamlessly together – the costumes, sets and score are just a few aspects that come to mind that offer layer upon layer. The acting is superb, and specific scenes (Jo's powerful and emotional speech in the attic to her mother comes to mind immediately (below)), I know will stay with me. Some of the beautifully poetic lines brought tears to my eyes even on the third watch.
"I just feel like women….they have minds and they have souls as well as just hearts. And they've got ambition and they've got talent as well as just beauty. And I'm so sick of people saying that, that love is just all a woman is fit for. I'm so sick of it. But I'm – I'm so lonely."

Jo March, Little Women
I can only describe Little Women as an absolute delight and achingly beautiful. Coming out of the first screening with my boyfriend on New Year's Day, I immediately knew I wanted to see it again and again. I already am endlessly glad that I began the year on such a lovely note. I have since seen it with my mum and my best friend, and both the second and third screening were just as enjoyable as the first. I just know that this film will be a comfort for years to come, and the level of warmth it brought to me will not leave in a hurry.
-Beth
May your shelves forever overflow with books! ☽
| Shop | Goodreads | Instagram | Tumblr | Twitter | Facebook |