Hi everyone! While in isolation, I'm doing a lot of daydreaming. Daydreaming about seeing my friends, family and boyfriend again. Daydreaming about driving again, singing along to the radio with the window rolled down. Daydreaming about the beach, the feeling of sand between my toes.
So why not add to that daydreaming, and talk about fictional places I'd love to visit too?
Life isn't much fun at number four Privet Drive, at least not for Harry Potter, living under the stairs in a cupboard full of spiders, but all of that is about to change. On the eve of Harry's eleventh birthday the letters start arriving; letters written in emerald green ink on yellowing parchment with an unmistakable letter H on purple wax seals. Because Harry Potter is no ordinary boy, he is the boy who lived, the wizard whose name everyone in the magical world knows and he has a place at Hogwarts School of Witchcraft and Wizardry. An incredible adventure is about to begin and life for Harry Potter will never be the same again.
Obviously this one has to be top of the list. I'd love to be able to wander the hallways of Hogwarts, and I feel lucky enough to be able to do the Studio Tour occasionally.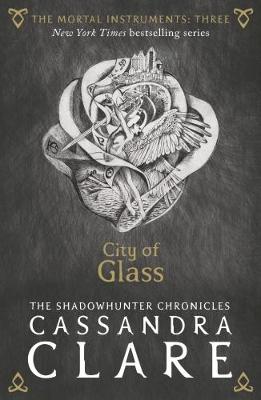 To save her mother's life, Clary must travel to the City of Glass, the ancestral home of the Shadowhunters – never mind that entering the city without permission is against the Law, and breaking the Law could mean death. To make things worse, she learns that Jace does not want her there, and Simon has been thrown in prison by the Shadowhunters, who are deeply suspicious of a vampire who can withstand sunlight.
As Clary uncovers more about her family's past, she finds an ally in mysterious Shadowhunter Sebastian. With Valentine mustering the full force of his power to destroy all Shadowhunters forever, their only chance to defeat him is to fight alongside their eternal enemies. But can Downworlders and Shadowhunters put aside their hatred to work together? While Jace realizes exactly how much he's willing to risk for Clary, can she harness her newfound powers to help save the Glass City – whatever the cost?
I remember reading this series and finding the City of Glass sounded so beautiful, I'd love to see it in real life.
Bilbo Baggins is a hobbit who enjoys a comfortable, unambitious life, rarely travelling further than the pantry of his hobbit-hole in Bag End. But his contentment is disturbed when the wizard, Gandalf, and a company of thirteen dwarves arrive on his doorstep one day to whisk him away on an unexpected journey `there and back again'. They have a plot to raid the treasure hoard of Smaug the Magnificent, a large and very dangerous dragon…
One of my bucket list activities is definitely to visit Hobbiton in New Zealand. It looks so beautiful!
Feyre, Rhys, and their close-knit circle of friends are still busy rebuilding the Night Court and the vastly-changed world beyond. But Winter Solstice is finally near, and with it, a hard-earned reprieve.
Yet even the festive atmosphere can't keep the shadows of the past from looming. As Feyre navigates her first Winter Solstice as High Lady, she finds that those dearest to her have more wounds than she anticipated–scars that will have far-reaching impact on the future of their Court.
Honestly, all of these books sound beautiful, but especially A Court of Frost and Starlight. I remember reading this book and thinking how beautiful the city sounded!
Zachary Ezra Rawlins is a graduate student in Vermont when he discovers a strange book hidden in the library stacks. As he turns the pages, entranced by tales of lovelorn prisoners, key collectors, and nameless acolytes, he reads something strange: a story from his own childhood. Bewildered by this inexplicable book and desperate to make sense of how his own life came to be recorded, Zachary uncovers a series of clues – a bee, a key and a sword – that lead him to a masquerade party in New York, to a secret club, and through a doorway to a subterranean library, hidden far below the surface of the earth.
What Zachary finds in this curious place is more than just a buried home for books and their guardians – it is a place of lost cities and seas, lovers who pass notes under doors and across time, and of stories whispered by the dead. Zachary learns of those who have sacrificed much to protect this realm, relinquishing their sight and their tongues to preserve this archive, and also those who are intent on its destruction. Together with Mirabel, a fierce, pink-haired protector of the place, and Dorian, a handsome barefoot man with shifting alliances, Zachary travels the twisting tunnels, darkened stairwells, crowded ballrooms, and sweetly-soaked shores of this magical world, discovering his purpose – in both the mysterious book and in his own life.
I just couldn't write this post without including something written by Erin Morgenstern. Her worlds sound so rich and luscious. I'm sure it would be terrifying but beautiful to visit the world of The Starless Sea.
A worthy mention is also Caraval, which I'm sure would be terrifying too!
Which fictional places would you love to visit?
-Beth
May your shelves forever overflow with books! ☽
| Shop | Goodreads | Instagram | Tumblr | Twitter | Facebook |