Stacking the Shelves is a weekly meme hosted by Tynga where we share books we've bought or received this week. Find out more and join in here!
Hi everyone! It's time for a bumper catch up Stacking the Shelves editions. I admit I haven't been great at catching up with these posts in the past month or so, so instead I thought I'd do a couple of posts over the next few weeks with gifts from September and the preorders I had in September. Today I'm going to start with gifts I've had and ARC copies I've been gifted!
Free Gifts/ARCs from September
In the house of Helios, god of the sun and mightiest of the Titans, a daughter is born. But Circe has neither the look nor the voice of divinity, and is scorned and rejected by her kin. Increasingly isolated, she turns to mortals for companionship, leading her to discover a power forbidden to the gods: witchcraft.
When love drives Circe to cast a dark spell, wrathful Zeus banishes her to the remote island of Aiaia. There she learns to harness her occult craft, drawing strength from nature. But she will not always be alone; many are destined to pass through Circe's place of exile, entwining their fates with hers. The messenger god, Hermes. The craftsman, Daedalus. A ship bearing a golden fleece. And wily Odysseus, on his epic voyage home.
There is danger for a solitary woman in this world, and Circe's independence draws the wrath of men and gods alike. To protect what she holds dear, Circe must decide whether she belongs with the deities she is born from, or the mortals she has come to love.
This one was actually gifted to me by Courtney in August, as she was gifted two copies for her birthday! Thank you Courtney!
Robin Cooper's life is falling apart.
While his friends prepare to head off to university, Robin is looking at a pile of rejection letters from drama schools up and down the country, and facing a future without the people he loves the most. Everything seems like it's ending, and Robin is scrabbling to find his feet.
Unsure about what to do next and whether he has the talent to follow his dreams, he and his best friends go and drown their sorrows at a local drag show, where Robin realises there might be a different, more sequinned path for him . . .
With a mother who won't stop talking, a boyfriend who won't acknowledge him and a best friend who is dying to cover him in glitter make up, there's only one thing for Robin to do: bring it to the runway.
Alex gifted me her ARC copy of Boy Queen and I bought her a finished copy in exchange, as I really liked how the ARC copy looked but she prefers the finished one.
Del has had a crush on Kiera Westing since kindergarten. And now, during their junior year, she's finally available. So when Kiera volunteers for an opportunity at their church, Del's right behind her. Though he quickly realizes he's inadvertently signed up for a Purity Pledge.
His dad thinks his wires are crossed, and his best friend, Qwan, doesn't believe any girl is worth the long game. But Del's not about to lose his dream girl, and that's where fellow pledger Jameer comes in. He can put in the good word. In exchange, Del just has to get answers to the Pledgers' questions…about sex ed.
With other boys circling Kiera like sharks, Del needs to make his move fast. But as he plots and plans, he neglects to ask the most important question: What does Kiera want? He can't think about that too much, though, because once he gets the girl, it'll all sort itself out. Right?
Alex also passed this one onto me! Thank you Alex.
The case is closed. Five years ago, schoolgirl Andie Bell was murdered by Sal Singh. The police know he did it. Everyone in town knows he did it.
But having grown up in the same small town that was consumed by the murder, Pippa Fitz-Amobi isn't so sure. When she chooses the case as the topic for her final year project, she starts to uncover secrets that someone in town desperately wants to stay hidden. And if the real killer is still out there, how far will they go to keep Pip from the truth?
My colleague Jo passed this one onto me! I've wanted to read it for a while and I'm glad to finally have a copy. Thanks Jo!
She also gave me this copy of War Storm, which was lucky as it was the only one I was missing in the series!
Foolish love appears to be the Roux family birthright, an ominous forecast for its most recent progeny, Ava Lavender. Ava—in all other ways a normal girl—is born with the wings of a bird.
In a quest to understand her peculiar disposition and a growing desire to fit in with her peers, sixteen-year old Ava ventures into the wider world, ill-prepared for what she might discover and naïve to the twisted motives of others. Others like the pious Nathaniel Sorrows, who mistakes Ava for an angel and whose obsession with her grows until the night of the Summer Solstice celebration.
That night, the skies open up, rain and feathers fill the air, and Ava's quest and her family's saga build to a devastating crescendo.
Blue had a pile of books they were passing on, and I've wanted the beautiful hardback edition of this for years, so I grabbed it. Thank you Blue!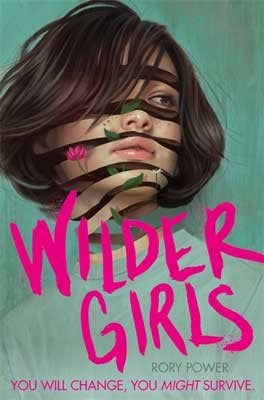 It's been eighteen months since the Raxter School for Girls was put under quarantine. Since the Tox hit and pulled Hetty's life out from under her.
It started slow. First the teachers died one by one. Then it began to infect the students, turning their bodies strange and foreign. Now, cut off from the rest of the world and left to fend for themselves on their island home, the girls don't dare wander outside the school's fence, where the Tox has made the woods wild and dangerous. They wait for the cure they were promised as the Tox seeps into everything.
But when Byatt goes missing, Hetty will do anything to find her, even if it means breaking quarantine and braving the horrors that lie beyond the fence. And when she does, Hetty learns that there's more to their story, to their life at Raxter, than she could have ever thought true. 
I've wanted to read this for a while, and we had a damaged copy at work that hadn't been cut properly. I luckily picked it up!
Imogen should be nice to her little sister Marie. She should be nice to her mum's boyfriend too. And she certainly shouldn't follow a strange silver moth through a door in a tree.
But then… who does what they're told?
Followed by Marie, Imogen finds herself falling into a magical kingdom where the two sisters are swept up in a thrilling race against time – helped by the spoiled prince of the kingdom, a dancing bear, a very grumpy hunter… and even the stars above them.
I was gifted a copy of this through Kaleidoscopic Tours! I'm on the blog tour for October 23rd and this hardback edition is so pretty.
I was also given ARC copies of I'll Give You the Sun by Blue and The Starless Sea by Amy! Thank you so much to everybody for these lovely gifts.
What did you buy this week?
-Beth
May your shelves forever overflow with books! ☽
| Shop | Goodreads | Instagram | Tumblr | Twitter | Facebook |