Stacking the Shelves is a weekly meme hosted by Tynga where we share books we've bought or received this week. Find out more and join in here!
We are in for a wild ride with this post today. I've received a lot of books in the past few weeks, with England being slightly more back to normal, working in a bookshop again and seeing friends a bit more has meant a lot of book gathering. So today's post is kind of going to be a bit of a bumper issue separated out into a few sections! I also posted a video on my YouTube the other day with all of the books I bought in lockdown, which I'll link below if it interests you.
Bought
I was lucky enough to snag this beautiful Illumicrate edition of Rule of Wolves by Leigh Bardugo, which is a lovely match to my Waterstones edition.
Half-Fae, half-human Bryce Quinlan loves her life. Every night is a party and Bryce is going to savour all the pleasures Lunathion – also known as Crescent City – has to offer. But then a brutal murder shakes the very foundations of the city, and brings Bryce's world crashing down.
Two years later, Bryce still haunts the city's most notorious nightclubs – but seeking only oblivion now. Then the murderer attacks again. And when an infamous Fallen angel, Hunt Athalar, is assigned to watch her every footstep, Bryce knows she can't forget any longer.
As Bryce and Hunt fight to unravel the mystery, and their own dark pasts, the threads they tug ripple through the underbelly of the city, across warring continents, and down to the deepest levels of Hel, where things that have been sleeping for millennia are beginning to stir …
I knew when I saw this beautiful paperback I wanted to pick it up, even though I still haven't read my hardback I know I'll love it!
I've read every Lauren James book (bar one) so far, and I knew I wanted this one. This is the sequel to the dyslexia friendly The Starlight Watchmaker, which I really enjoyed.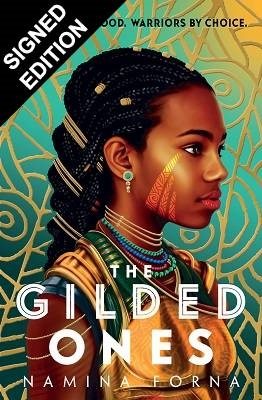 Sixteen-year-old Deka lives in fear and anticipation of the blood ceremony that will determine whether she will become a member of her village. Already different from everyone else because of her unnatural intuition, Deka prays for red blood so she can finally feel like she belongs.
But on the day of the ceremony, her blood runs gold, the color of impurity–and Deka knows she will face a consequence worse than death.
Then a mysterious woman comes to her with a choice: stay in the village and submit to her fate, or leave to fight for the emperor in an army of girls just like her. They are called alaki–near-immortals with rare gifts. And they are the only ones who can stop the empire's greatest threat.
Knowing the dangers that lie ahead yet yearning for acceptance, Deka decides to leave the only life she's ever known. But as she journeys to the capital to train for the biggest battle of her life, she will discover that the great walled city holds many surprises. Nothing and no one are quite what they seem to be–not even Deka herself.
I found the last signed exclusive copy I had of this at work and I knew I wanted to snag it! It's so beautiful and I can't wait to read it.
Nesta Archeron has always been prickly-proud, swift to anger, and slow to forgive. And ever since being forced into the Cauldron and becoming High Fae against her will, she's struggled to find a place for herself within the strange, deadly world she inhabits. Worse, she can't seem to move past the horrors of the war with Hybern and all she lost in it.
The one person who ignites her temper more than any other is Cassian, the battle-scarred warrior whose position in Rhysand and Feyre's Night Court keeps him constantly in Nesta's orbit. But her temper isn't the only thing Cassian ignites. The fire between them is undeniable, and only burns hotter as they are forced into close quarters with each other.
Meanwhile, the treacherous human queens who returned to the Continent during the last war have forged a dangerous new alliance, threatening the fragile peace that has settled over the realms. And the key to halting them might very well rely on Cassian and Nesta facing their haunting pasts.
Against the sweeping backdrop of a world seared by war and plagued with uncertainty, Nesta and Cassian battle monsters from within and without as they search for acceptance-and healing-in each other's arms.
I finally managed to get my Waterstones edition of this, as it had arrived at the bookshop I work in over lockdown.
Around the world, black hand prints are appearing on doorways, scorched there by winged strangers who have crept through a slit in the sky.
In a dark and dusty shop, a devil's supply of human teeth grows dangerously low.
And in the tangled lanes of Prague, a young art student is about to be caught up in a brutal otherworldly war.
Meet Karou. She fills her sketchbooks with monsters that may or may not be real, she's prone to disappearing on mysterious "errands", she speaks many languages – not all of them human – and her bright blue hair actually grows out of her head that color. Who is she? That is the question that haunts her, and she's about to find out.
When beautiful, haunted Akiva fixes fiery eyes on her in an alley in Marrakesh, the result is blood and starlight, secrets unveiled, and a star-crossed love whose roots drink deep of a violent past. But will Karou live to regret learning the truth about herself?
I've been wanting to buy these books for a while and I love these new editions. I managed to get the entire set on Blackwells recently, which I was really happy about.
The dream chooses the dreamer, not the other way around – and Lazlo Strange, war orphan and junior librarian, has always feared that his dream chose poorly. Since he was five years old he's been obsessed with the mythic lost city of Weep, but it would take someone bolder than he to cross half the world in search of it. Then a stunning opportunity presents itself, in the person of a hero called the Godslayer and a band of legendary warriors, and he has to seize his chance to lose his dream forever.
What happened in Weep two hundred years ago to cut it off from the rest of the world? What exactly did the Godslayer slay that went by the name of god? And what is the mysterious problem he now seeks help in solving?
The answers await in Weep, but so do more mysteries – including the blue-skinned goddess who appears in Lazlo's dreams. How did he dream her before he knew she existed? And if all the gods are dead, why does she seem so real?
I also managed to find this beautiful UK edition of Strange the Dreamer, which I can't wait to read.
And last but not least, I've been slowly collecting the hardback Throne of Glass books. I know I already have the paperbacks, but there is a special reason I've been getting these that will become clear soon…
Gifted by friends
Within the boroughs of London, nestled among its streets, hides another city, filled with magic.
'Magic and love. Love and magic. They destroy everything in the end …'
Anna's Aunt has always warned her of the dangers of magic. Its twists. Its knots. Its deadly consequences.
Now Anna counts down the days to the ceremony that will bind her magic forever.
Until she meets Effie and Attis.
They open her eyes to a London she never knew existed. A shop that sells memories. A secret library where the librarian feeds off words. A club where revellers lose themselves in a haze of spells.
But as she is swept deeper into this world, Anna begins to wonder if her Aunt was right all along.
And this is the first book gifted to me recently by my lovely friend and co-worker Jo! She was sent two copies of this book by the publisher and decided to pass one to me. I'm really excited for this one as it really intrigues me!
Every seven years, the Agon begins. As punishment for a past rebellion, nine Greek gods are forced to walk the earth as mortals, hunted by the descendants of ancient bloodlines, all eager to kill a god and seize their divine power and immortality.
Long ago, Lore Perseous fled that brutal world in the wake of her family's sadistic murder by a rival line, turning her back on the hunt's promises of eternal glory. For years she's pushed away any thought of revenge against the man–now a god–responsible for their deaths.
Yet as the next hunt dawns over New York City, two participants seek out her help: Castor, a childhood friend of Lore believed long dead, and a gravely wounded Athena, among the last of the original gods.
The goddess offers an alliance against their mutual enemy and, at last, a way for Lore to leave the Agon behind forever. But Lore's decision to bind her fate to Athena's and rejoin the hunt will come at a deadly cost–and still may not be enough to stop the rise of a new god with the power to bring humanity to its knees.
The lovely Alex from Alex's Books decided to pass this to me after I was hunting down the Fairyloot edition. It's so beautiful and I've been seeing it everywhere!
And when Blue from Bookish Blue found out they'd ordered two copies of this, they decided to give me a copy! Thank you Blue!
When Rin aced the Keju – the test to find the most talented students in the Empire – it was a shock to everyone: to the test officials, who couldn't believe a war orphan from Rooster Province could pass without cheating; to Rin's guardians, who had hoped to get rich by marrying her off; and to Rin herself, who realized she was finally free from a life of servitude. That she got into Sinegard – the most elite military school in Nikan – was even more surprising.
But surprises aren't always good.
Because being a dark-skinned peasant girl from the south is not an easy thing at Sinegard. Fighting the prejudice of rival classmates, Rin discovers that she possesses a lethal, unearthly power – an aptitude for the nearly-mythical art of shamanism. Exploring the depths of her gift with the help of psychoactive substances and a seemingly insane teacher, Rin learns that gods long thought dead are very much alive – and that mastering these powers could mean more than just surviving school.
For while the Nikara Empire is at peace, the Federation of Mugen still lurks across a narrow sea. The Federation occupied Nikan for decades after the First Poppy War, and only barely lost the continent in the Second. And while most people calmly go about their lives, a few are aware that a Third Poppy War is just a spark away…
This one is another book gifted to me by Alex, as she recently bought the Fairyloot set and passed me the paperback. I've wanted to read this series for a while!
Gifted by publishers
The Storys are the envy of their neighbours: owners of the largest property on their East Coast island, they are rich, beautiful, and close. Until it all falls apart. The four children are suddenly dropped by their mother with a single sentence:
You know what you did.
They never hear from her again.
Years later, when 18-year-old cousins Aubrey, Milly and Jonah Story receive a mysterious invitation to spend the summer at their grandmother's resort, they have no choice but to follow their curiosity and meet the woman who's been such an enigma their entire lives.
This entire family is built on secrets, right? It's the Story legacy.
This summer, the teenagers are determined to discover the truth at the heart of their family. But some secrets are better left alone.
This is a strange one, as I received a copy from Alex and from the publisher recently – so thank you both to Penguin and Alex.
In a series of personal essays, prominent journalist and LGBTQIA+ activist George M. Johnson explores his childhood, adolescence, and college years in New Jersey and Virginia. From the memories of getting his teeth kicked out by bullies at age five, to flea marketing with his loving grandmother, to his first sexual relationships, this young-adult memoir weaves together the trials and triumphs faced by Black queer boys.
Both a primer for teens eager to be allies as well as a reassuring testimony for young queer men of color, All Boys Aren't Blue covers topics such as gender identity, toxic masculinity, brotherhood, family, structural marginalization, consent, and Black joy. Johnson's emotionally frank style of writing will appeal directly to young adults. 
I also received a copy of All Boys Aren't Blue from Penguin, which I'm currently reading. Thank you for my copy!
Vaseline on the teeth makes a smile shine. It's a cheap stunt, but Mark Adams knows it's optics that can win or ruin an election.
Everything Mark learned about politics, he learned from his father, the congressman who still pretends he has a daughter and not a son. To protect his father's image, Mark promises to keep his past hidden and pretend to be the cis guy everyone assumes he is. But when he sees a manipulatively charming candidate for student body president inflame dangerous rhetoric, Mark decides to risk the low profile he assured his father and insert himself as a political challenger.
One big problem? No one really knows Mark. He didn't grow up in this town, and he has few friends; plus, the ones he does have aren't exactly with the in-crowd. Still, thanks to countless seasons of Scandal and The West Wing, these nerds know where to start: from campaign stops to voter polling to a fashion makeover. Soon Mark feels emboldened to get in front of and engage with voters—and even start a new romance. But with an investigative journalist digging into his past, a father trying to silence him, and a bully front-runner who stands in his way, Mark will have to decide which matters most: perception or truth, when both are just as dangerous.
And the last two books on this list were sent to me by Harper 360 and I'm very excited to get to them soon. When I found out the main character of this one had the same exact name as my boyfriend, I couldn't resist! It also sounds really enjoyable.
Present Day:
Eva has never felt like she belonged… not in her own family or with her friends in New York City, and certainly not at a fancy boarding school like Hardwick Preparatory Academy. So when she is invited to join the Fives, an elite secret society, she jumps at the opportunity to finally be a part of something.
But what if the Fives are about more than just having the best parties and receiving special privileges from the school? What if they are also responsible for keeping some of Hardwick's biggest secrets buried?
1962:
There is only one reason why Connie would volunteer to be one of the six students to participate in testing Hardwick's nuclear fallout shelter: Craig Allenby. While the thought of nuclear war sends her into a panic, she can't pass up the opportunity to spend four days locked in with the school's golden boy. However, Connie and the other students quickly discover that there is more to this "test" than they previously thought. As they are forced to follow an escalating series of commands, Connie realizes that one wrong move could have dangerous consequences.
Separated by sixty years , Eva's and Connie's stories become inextricably intertwined as Eva unravels the mystery of how six students went into the fallout shelter all those years ago . . . but only five came out.
I also received this one from Harper (thank you Harper!) and I'm very drawn to this one as well. It sounds super interesting!
Thank you for reaching the end of this post, and well done if you did – there's a lot of books here! I have been very lucky to be able to buy or receive all of these books in such a short space of time, and I just want to take a second to acknowledge all of the ways I am privileged enough to be able to do that. Between some lovely gifts, working in a bookshop and buying smartly, I haven't spent an extortionate amount on these and I recognise I am very lucky to be able to say that! Thank you to Blue, Alex, Jo and the publishers mentioned in this post.
Which books did you buy or receive this week?
-Beth
May your shelves forever overflow with books! ☽
Shop | Booktube | Goodreads | Instagram | Tumblr | Twitter | Facebook