Stacking the Shelves is a weekly meme hosted by Tynga where we share books we've bought or received this week. Find out more and join in here!
Hi everyone! It's been a few weeks since I last posted one of these and I have gained a LOT of books in that time (probably too many). Let's have a look at what I got!
Bought
Ever felt anxious or alone? Like you don't belong anywhere? Like you're almost… invisible? Find your kindred spirits at The Sad Ghost Club.
This is the story of one of those days – a day so bad you can barely get out of bed, when it's a struggle to leave the house, and when you do, you wish you hadn't. But even the worst of days can surprise you. When one sad ghost, lost and alone at a crowded party, spies another sad ghost across the room, they decide to leave together. What happens next changes everything. Because that night they start the The Sad Ghost Club – a secret society for the anxious and alone, a club for people who think they don't belong.
I've wanted a copy of this for a while and I was lucky enough to find a signed edition in a Waterstones I visited recently!
Greece in the age of heroes. Patroclus, an awkward young prince, has been exiled to the court of King Peleus and his perfect son Achilles. By all rights their paths should never cross, but Achilles takes the shamed prince as his friend, and as they grow into young men skilled in the arts of war and medicine their bond blossoms into something deeper – despite the displeasure of Achilles' mother Thetis, a cruel sea goddess. But then word comes that Helen of Sparta has been kidnapped. Torn between love and fear for his friend, Patroclus journeys with Achilles to Troy, little knowing that the years that follow will test everything they hold dear.
I wanted this cover of The Song of Achilles, which is now out of print, but I managed to find one second hand.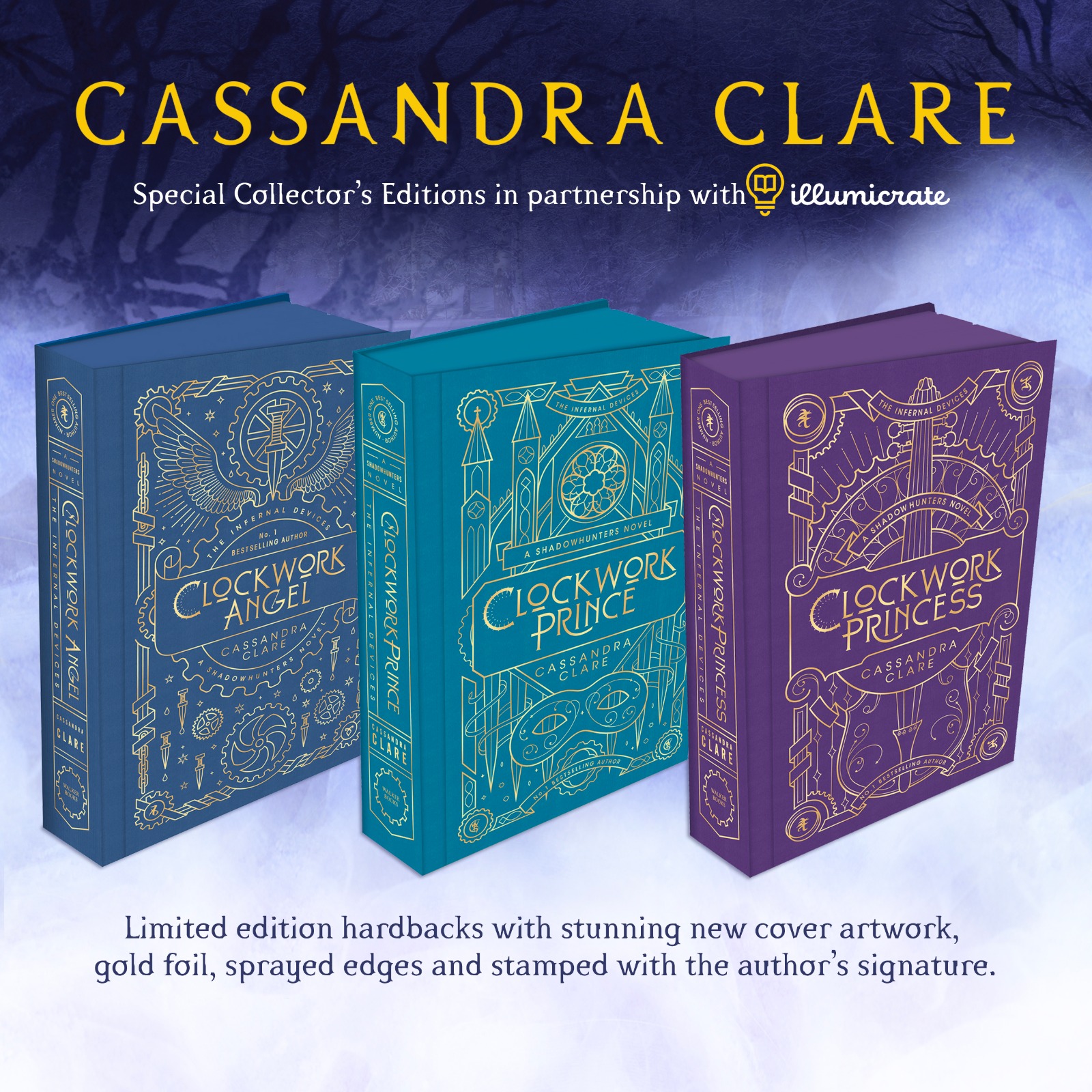 These beautiful editions of The Infernal Devices arrived recently! I absolutely love them.
Adrift after her sister Bailey's sudden death, Lennie finds herself torn between quiet, seductive Toby—Bailey's boyfriend who shares her grief—and Joe, the new boy in town who bursts with life and musical genius. Each offers Lennie something she desperately needs… though she knows if the two of them collide her whole world will explode.
Join Lennie on this heartbreaking and hilarious journey of profound sorrow and mad love, as she makes colossal mistakes and colossal discoveries, as she traipses through band rooms and forest bedrooms and ultimately right into your heart.
As much a celebration of love as a poignant portrait of loss, Lennie's struggle to sort her own melody out of the noise around her is always honest, often uproarious, and absolutely unforgettable.
I found this beautiful 10th anniversary edition of The Sky is Everywhere (fun fact, this book inspired my blog name!) recently and just had to pick it up.
Linus Baker leads a quiet, solitary life. At forty, he lives in a tiny house with a devious cat and his old records. As a Case Worker at the Department in Charge Of Magical Youth, he spends his days overseeing the well-being of children in government-sanctioned orphanages.
When Linus is unexpectedly summoned by Extremely Upper Management he's given a curious and highly classified assignment: travel to Marsyas Island Orphanage, where six dangerous children reside: a gnome, a sprite, a wyvern, an unidentifiable green blob, a were-Pomeranian, and the Antichrist. Linus must set aside his fears and determine whether or not they're likely to bring about the end of days.
But the children aren't the only secret the island keeps. Their caretaker is the charming and enigmatic Arthur Parnassus, who will do anything to keep his wards safe. As Arthur and Linus grow closer, long-held secrets are exposed, and Linus must make a choice: destroy a home or watch the world burn.
I also came across a copy of this for the first time in person while at work and put it to the side for myself as I've heard so many amazing things about it.
Under the Martial Empire, defiance is met with death.
When Laia's grandparents are brutally murdered and her brother arrested for treason by the empire, the only people she has left to turn to are the rebels.
But in exchange for their help in saving her brother, they demand that Laia spy on the ruthless Commandant of Blackcliff, the Empire's greatest military academy. Should she fail it's more than her brother's freedom at risk . . . Laia's very life is at stake.
There, she meets Elias, the academy's finest soldier. But Elias wants only to be free of the tyranny he's being trained to enforce. He and Laia will soon realize that their destinies are intertwined – and that their choices will change the fate of the Empire itself.
I recently decided to unhaul my Fairyloot set of these, and I've picked up the paperbacks as I did enjoy the series, just not enough to keep my super special editions.
During the summer of his first year in high school, a young man named Hodaka runs away from home to the bustling city of Tokyo. Alone and exhausted, he decides to kill time in a fast food place, where he meets a young woman named Hina who happens to work there. Little does he know that Hina possesses powers that not only affect the weather, but the whole world…
In Weathering with You, Makoto Shinkai dives into topics like love and sacrifice to show how far one boy goes to protect the thing he loves most. This manga reveals the backstories and true thoughts of the characters who stole the hearts of fans and critics worldwide.
Your Name and Weathering With You are two of my favourite films so I was excited to see the first volume of this manga.
When glamorous socialite Noemi Taboada receives a frantic letter from her newlywed cousin begging to be rescued from a mysterious doom, it's clear something is desperately amiss. Catalina has always had a flair for the dramatic, but her claims that her husband is poisoning her and her visions of restless ghosts seem remarkable, even for her.
Noemi's more suited to cocktail parties than amateur sleuthing, but she heads immediately to High Place, a remote mansion in the Mexican countryside, determined to discover what is so affecting her cousin. She's tough and smart, with an indomitable will, and she is not afraid: not of her cousin's new husband, who is both menacing and alluring; not of his father, the ancient patriarch who is fascinated by Noemi; and not of the house itself, which begins to invade Noemi's dreams with visions of blood and doom.
Her only ally in this inhospitable abode is the family's youngest son. Shy and gentle, he wants to help – but he might also be hiding dark knowledge of his family's past. For there are many secrets behind the walls of High Place. The family's once colossal wealth and faded mining empire kept them from prying eyes, but as Noemi digs deeper she unearths stories of violence and madness.
And Noemi, mesmerised by the terrifying yet seductive world of High Place, may soon find it impossible to leave this enigmatic house behind …
I've wanted to read this for a while and me and Amy want to buddy read it together, so we both picked up copies.
Maeve Chambers doesn't have much going for her. Not only does she feel like the sole idiot in a family of geniuses, she managed to drive away her best friend Lily a year ago. But when she finds a pack of dusty old tarot cards at school, and begins to give scarily accurate readings to the girls in her class, she realizes she's found her gift at last. Things are looking up – until she discovers a strange card in the deck that definitely shouldn't be there. And two days after she convinces her ex-best friend to have a reading, Lily disappears.
Can Maeve, her new friend Fiona and Lily's brother Roe find her? And will their special talents be enough to bring Lily back, before she's gone for good? 
I've also recently heard amazing things about this one, mostly from BooksNest on YouTube. Me, Amy and Jo have decided to read it together soon as we haven't done a buddy read in a while!
Gifted
Seventeen-year-old Valeria is one of the only survivors of the freeze, a dark magical hold Knnot Mountain unleashed over her village. Everyone, including her family, is trapped in an unbreakable sheet of ice. Ever since, she's been on the run from the Czar, who is determined to imprison any who managed to escape. Valeria finds refuge with the Thieves Guild, doing odd jobs with her best friend Alik, the only piece of home she has left.
That is, until he is brutally murdered.
A year later, she discovers Alik is alive and being held against his will. To buy his freedom, she must lead a group of cutthroats and thieves on a perilous expedition to the very mountain that claimed her family. Only something sinister slumbers in the heart of Knnot.
And it has waited years for release.
I've seen this around a lot and I decided I really wanted the Fairyloot edition, and Amy very kindly gifted one to me!
This one was sent to me by the publishers – thank you! – and I really like the sound of it. Little did I know, it's the second in a series! Hopefully I can pick up the first at some point and read them both.
In this delicious new collection, you'll find stories about lurking vampires of social media, rebellious vampires hungry for more than just blood, eager vampires coming out―and going out for their first kill―and other bold, breathtaking, dangerous, dreamy, eerie, iconic, powerful creatures of the night.
Welcome to the evolution of the vampire―and a revolution on the page.
Vampires Never Get Old includes stories by authors both bestselling and acclaimed, including Samira Ahmed, Dhonielle Clayton, Zoraida Córdova and Natalie C. Parker, Tessa Gratton, Heidi Heilig, Julie Murphy, Mark Oshiro, Rebecca Roanhorse, Laura Ruby, Victoria "V. E." Schwab, and Kayla Whaley.
And last but not least, this one was also sent to me by the publishers – thank you Titan! I heard that V.E. Schwab's short story is being adapted for Netflix, and I really wanted to read it.
Which books did you buy or receive this week?
-Beth
May your shelves forever overflow with books! ☽
Shop | Booktube | Goodreads | Instagram | Tumblr | Twitter | Facebook