Stacking the Shelves is a weekly meme hosted by Tynga where we share books we've bought or received this week. Find out more and join in here!
Hi all! I seem to have definitely gotten my book buying a little more under control, but it looks like my limit is 2 books per week as I seem to be consistently buying or receiving two each week at the moment! These are the two books I bought this week.
When three very different siblings, Fern, Rowan and Willow, go home for a Christmas reunion at their family home in Edinburgh, it's not long before some VERY BIG SECRETS threaten their cosy holiday …
The McAllister house on Arboretum Road has seen 120 Christmases since its completion.
This year, FERN is bringing her gorgeous boyfriend home and she wants everything to be perfect.
But her twin brother ROWAN would rather go on the pull than pull crackers with the family.
And their younger sister WILLOW is terrified of Christmas Day.
With FOUR sleeps till Christmas,
THREE secretive siblings,
TWO hot houseguests,
And ONE juicy secret …
This Christmas, there will be some BIG surprises under the tree.
Sometimes at Christmas, you don't get what you want, you get what you need…
I bought this one as I'm going to be reading it with friends as part of a little book club we have. It sounds really interesting and I'm looking forward to reading something a bit different for Christmas!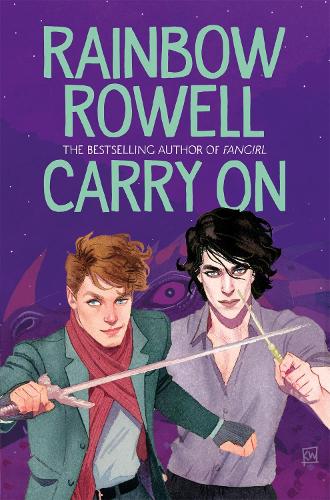 Simon Snow is the worst Chosen One who's ever been chosen.
That's what his roommate, Baz, says. And Baz might be evil and a vampire and a complete git, but he's probably right.
Half the time, Simon can't even make his wand work, and the other half, he starts something on fire. His mentor's avoiding him, his girlfriend broke up with him, and there's a magic-eating monster running around, wearing Simon's face. Baz would be having a field day with all this, if he were here — it's their last year at the Watford School of Magicks, and Simon's infuriating nemesis didn't even bother to show up.
I also had my pre-order of this one come through in a beautiful Waterstones edition to match my copies of Wayward Son and Any Way the Wind Blows. It looks so pretty and the sprayed edge is to die for!
Which books did you buy or receive this week?
-Beth
May your shelves forever overflow with books! ☽
Shop | Booktube | Goodreads | Instagram | Tumblr | Twitter | Facebook