Stacking the Shelves is a weekly meme hosted by Tynga where we share books we've bought or received this week. Find out more and join in here!
Hi everyone! It's time for another stacking the shelves and I really need to slow down my book buying because there's even more this week! I also received a couple of gifts which are lovely.
Bought
A seasonal Poirot and Marple short story collection that includes: The Adventure of the Christmas Pudding; The Mystery of the Spanish Chest; The Under Dog; Four and Twenty Blackbirds; The Dream; and Greenshaw's Folly.
When Alice Ascher is murdered in Andover, Hercule Poirot is already on to the clues. Alphabetically speaking, it's one down, twenty-five to go.
There's a serial killer on the loose. His macabre calling card is to leave the ABC Railway guide beside each victim's body. But if A is for Alice Asher, bludgeoned to death in Andover; and B is for Betty Bernard, strangled with her belt on the beach at Bexhill; then who will Victim C be?
The tranquillity of a cruise along the Nile is shattered by the discovery that Linnet Ridgeway has been shot through the head. She was young, stylish and beautiful, a girl who had everything – until she lost her life. Hercule Poirot recalls an earlier outburst by a fellow passenger: 'I'd like to put my dear little pistol against her head and just press the trigger.' Yet in this exotic setting, nothing is ever quite what it seems… 
Motives for Murder: A fortune in uncut diamonds, hidden by an eccentric old man. A woman's love, too freely given. A business empire built on ruthlessness. Each of them may have been a motive for the brutal slaying of wealthy old Simeon Lee. Coupled with Lee's family, each member of which hated him and wished to see him dead, they presented Hercule Poirot with a baffling challenge–one which the astute detective solved only through his uncanny ability to see "the little things."
The only books I've bought this week are Agatha Christie books to complete my collection of these stunning hardback clothbound classics. I'm so happy I've got this whole set now!
Gifted
I was sent a copy of Room to Dream by Knights Of, which is the third book in the Front Desk series, which I haven't read yet but I really want to! Thank you to the publisher for this one.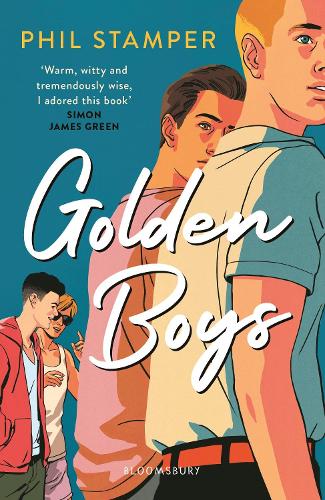 Gabriel, Reese, Sal, and Heath are best friends, bonded in their small rural town by their queerness, their good grades, and their big dreams. They are about to embark on the summer before senior year of high school, where each is going on a new, big adventure. Reese is attending a design school in Paris. Gabriel is going to Boston to volunteer with a environmental nonprofit. Sal is interning on Capitol Hill for a U.S. Senator. And Heath is stuck going to Daytona Beach to help out at his aunt's beachfront arcade.
What will this summer of new experiences and world-expanding travel mean for each of them—and for their friendship? 
I also received a copy of Golden Boys by Phil Stamper. I still haven't read a Phil Stamper book but I'd really like to! Thank you to the publisher for this one too!
Which books did you buy or receive this week?
-Beth
May your shelves forever overflow with books! ☽
Shop | Booktube | Goodreads | Instagram | Tumblr | Twitter | Facebook