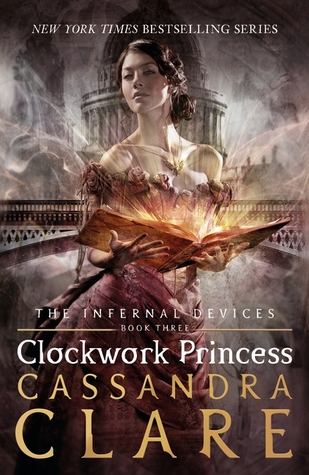 If the only way to save the world was to destroy what you loved most, would you do it?
The clock is ticking. Everyone must choose.
Passion. Power. Secrets. Enchantment.
I am so overwhelmed right now, I don't even know where to begin. I adored Clockwork Angel, and I loved Clockwork Prince, but this book has everything. It is a combination of everything I loved about both, and I'm just sitting here hoping I can put that amount of love into words.
The action is definitely back in this one, and once it picks up the pace it doesn't disappoint. I felt like there just wasn't enough in the second book, but Clockwork Princess definitely makes up for it. Again, the world building and exploration is just incredible. Living in England definitely makes it even more special as I really connected to where Clare was talking about, but the most impressive thing is how she captured the feeling of British countryside without having living here herself.
"Sometimes one must choose whether to be kind or honorable," he said."
Again, the characters are just so well written, and I found it even more so as the series continued. Clare has an incredible talent to make the reader sympathetic to even the most unlikely people, and I admire her for that so much. The way Clockwork Princess is constructed was also genius, and I loved how it flicked between scenes of different characters, keeping the tension and fast pace up.
I cannot write this review without mentioning the epilogue. My lovely friend and buddy-reader Chloe told me to be careful reading this late at night, and what did I do? Finish it at 1am. Of course this meant I was lying in bed, tears streaming down my face onto the pillow. And that is why I had to mention the epilogue – because it made me cry so much! Often, books will bring tears to my eyes, and I'll feel emotional. But it's rare that a book makes me sob. And oh, how Clockwork Princess made me sob.
"Sometimes one cannot be both."
Emotionally, this book had it all. It made me laugh, cry, smile. It filled my heart with joy, only to break it into a thousand pieces. This book is a complete gem, a diamond, a shooting star. It is beauty, poetry, wonder. It might even be my favourite book of the year.
★★★★★
5 stars
-Beth
May your shelves forever overflow with books! ☽
| Goodreads |Instagram | Tumblr | Twitter | YouTube | Facebook | Redbubble |