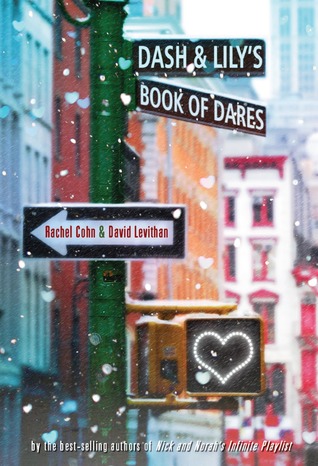 So begins the latest whirlwind romance from the bestselling authors of Nick & Norah's Infinite Playlist. Lily has left a red notebook full of challenges on a favorite bookstore shelf, waiting for just the right guy to come along and accept its dares. But is Dash that right guy? Or are Dash and Lily only destined to trade dares, dreams, and desires in the notebook they pass back and forth at locations across New York? Could their in-person selves possibly connect as well as their notebook versions? Or will they be a comic mismatch of disastrous proportions?
Meh. Unfortunately this book was very mediocre. I had fun reading it, sure, but it really didn't impress me. Weirdly, I read the sequel, Twelve Days of Dash and Lily before the first book! It's the only series I've ever read backwards, but I don't think it particularly mattered too much.
I found Lily a bit whiny in this one too – but actually not so much! I just saw both characters as flawed, genuine 16 year olds, and that was okay. They had their qualms and struggles, but it displayed teenage angst accurately.
"You think fairy tales are only for girls? Here's a hint – ask yourself who wrote them. I assure you, it wasn't just the women. It's the great male fantasy – all it takes is one dance to know that she's the one. All it takes is the sound of her song from the tower, or a look at her sleeping face."
Unfortunately, I also didn't feel particularly festive during this one? I was thinking back to when I've read other festive books, and I feel like this one could have had a little more…oomph. I wanted Christmas trees on sale on corners. I wanted Gingerbread houses. I wanted MORE SNOW. Snow flurries in Central Park and with ice skating and UGH just more.
I think part of the problem was the fact that this book took place both before and after Christmas, as I felt more festive at the start of the story. I just wish I'd seen Christmas day with their families, and I know that decision was obviously part of the plot, but I would have liked just one family Christmas scene to make me feel like it truly included that special day.
"And right away you know – this is the girl in your head, sleeping or dancing or singing in front of you. Yes, girls want their princes, but boys want their princesses just as much. And they don't want a very long courtships. They want to know immediately."
Overall, I can't say I didn't enjoy this book. It was a fun read with moments of hilariousness and also moments that touched my heart. It did have the bits of Christmas that sparkled, and I enjoyed reading both characters stories. I thought it was brilliant that Dash made a great bookworm and relatable character for us readers. I had fun, but that was all unfortunately!
★★★
3 stars
-Beth
May your shelves forever overflow with books! ☽
| Goodreads |Instagram | Tumblr | Twitter | YouTube | Facebook | Redbubble |