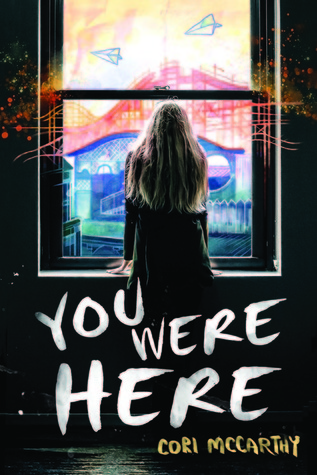 Goodreads | Amazon
Disclaimer: I received an ebook version of this novel through NetGalley in exchange for an honest review (But have already purchased a hardback version too haha)
Edition: Hardcover, 400 pages, published March 1st 2016 by Sourcebooks Fire
Synopsis: Grief turned Jaycee into a daredevil, but can she dare to deal with her past?
On the anniversary of her daredevil brother's death, Jaycee attempts to break into Jake's favorite hideout—the petrifying ruins of an insane asylum. Joined by four classmates, each with their own brand of dysfunction, Jaycee discovers a map detailing her brother's exploration and the unfinished dares he left behind.
As a tribute to Jake, Jaycee vows to complete the dares, no matter how terrifying or dangerous. What she doesn't bargain on is her eccentric band of friends who challenge her to do the unthinkable: reveal the parts of herself that she buried with her brother.
Okay. Wow. Wow-ee. This book was insane, incredible. You name it, this book is it (as long as you mean it's good). Seriously, I always say the hardest books to review are the amazing ones…and I'm struggling to find the words for this one already.
The plot…is captivating, entertaining and all around amazing. I felt sucked in from the first page. There's a sort of twist at the end that although I was expecting, really wasn't sure if it was going to happen. And let me just say, I'm so glad it did! I'm also so, so happy it happened at Geauga! I just wanted to read on and on and on…and that's what I did, literally finishing the whole, 400 page novel in a few sittings. The amazing plot just made me feel like the pages were turning themselves!
The characters…are pretty much sat on an extremely emotional roller-coaster the entire way through the book. But that's okay, in fact that's what this book is all about – and Cori writes that so well! I loved how close I felt to all of the characters (even Mik) with all of their different chapters. I would even go as far to say as this is the best book I've ever read with more than two POV's. It just does it so well!
The writing…okay, so the writing is just incredible. It's what ties this whole book together. Because yes, I loved the setting(s), characters, plot and everything else, but the writing just absolutely blew my mind.
How Cori put herself into the heads of all these amazing and unique characters I can't even begin to comprehend. I also loved how this book was so normal, and relatable, but at the same time so deep and emotional.
The setting…is not normally something I include in reviews, but here I simply have to.
Abandoned places fascinate me. And this book is full of them – in fact most of the best scenes are set in them. It made the book not only extremely unique, but also have this great edge I've never noticed in YA before. This creepy, ghostly but very intruiging edge that I couldn't drag myself away from.
In fact, the settings touched me so much that I'm going to be doing a post just about them (with links to info about the real places!) this Saturday. If you're interested, check that out!
Something I liked…ah the comic parts! Just like my lovely friend Sophie said, DO NOT LET THEM PUT YOU OFF! They perfectly represent Mik as a person, as the graffiti does for Bishop (don't let that put you off, either!). Just as the poems and paintings do in Jandy Nelson's novels, they simply enhance and improve this beautiful book even further – and it just wouldn't be what it is without them.
Something I disliked…absolutely nothing. It is extremely rare that a bookworm will come across a novel that they found not one thing to dislike…but here is one of those ocassions that that has happened. I go through each book I read being able to pick up on at least one thing I didn't enjoy or could have been improved on. But now…I'm stuck for words. This book was perfect.
My thoughts…Cori McCarthy, I don't know how (please share your secret?) but you have created such an unusual, individual but so beautiful and magical book. I feel like it was a true treasure and one I will not find again in a long time.
This book is a perfect coming-of-age novel with a twist. If you haven't read it, I utterly force recommend you to do so. Now.
In fact…I may even go far enough to say that this book may have taken over (or at least equalled) All The Bright Places as my favourite novel of all time – wow.
My rating is…
☽ ☽ ☽ ☽ ☽
5 out of 5 moons
(and so much more)
 -Beth
May your shelves forever overflow with books! ☽
---
---