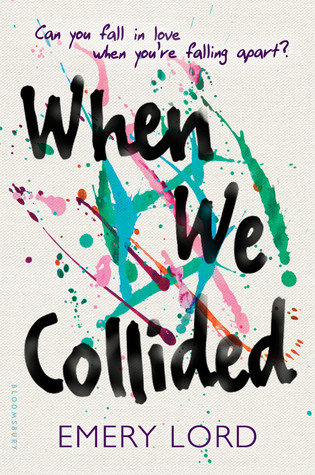 Goodreads | Amazon
Edition: Hardcover, 352 pages, published April 5th 2016 by Bloomsbury USA Childrens
Synopsis: We are seventeen and shattered and still dancing. We have messy, throbbing hearts, and we are stronger than anyone could ever know…
Jonah never thought a girl like Vivi would come along.
Vivi didn't know Jonah would light up her world.
Neither of them expected a summer like this…a summer that would rewrite their futures.
In an unflinching story about new love, old wounds, and forces beyond our control, two teens find that when you collide with the right person at just the right time, it will change you forever.
How beautiful broken things can be…how beautiful they are. And how beautifully Lord showed me that with this book…I will never be able to comprehend any of those things.
The plot…I love that the book is set over a summer, it's one of the best time spans for a contemporary novel, I think. As a reader, I wasn't involved with each day. But I felt like I was, and that was enough.
The characters…they are the most broken things of all, but they are also the most perfect. Vivi and Jonah are like colours, bright and sparkling, balancing each other out until they make the most beautiful rainbow.
The writing…is beautiful, too. The ultimate word for this book is beautiful. The writing is raw and deep and full of emotion, and that matches with every single thing about this novel. I wish I could write like Lord.
Something I liked…the setting! It's not often I read about such a deep connection to a place in a contemporary book, and I really liked that Lord showed us this. I fell in love with Verona Cove from the very first page, but I think you need to for this book to be complete…and I love that loving the setting is just another puzzle piece to loving this book.
Something I disliked…the only thing I can say is Vivi.
I admit, there were times when I really didn't like her, as much as I wanted to. She just came across so self-centered and undeserving – and I felt like she cast Jonah aside until she needed him. I felt his little heart breaking every single time he would be waiting to hear from her, worrying about her, when she would be planning her next wild adventure…without him.
But I think that's exactly how Lord meant for her to come across, and I admit, it works. Because I realised a lot of things as the book went on, and as Jonah found out about them. And if those facts had been laid out in front of me from the start…if I realised what made Vivi…Vivi, this book just wouldn't be what it is. It needs the confusion and then the understanding to make it so heartbreakingly, emotionally perfect.
My thoughts…this book is like rain. It's messy and it destroys your hair, but it's so, so beautiful. And rain…rain is the very thing that makes rainbows.
My rating is…
☽☽☽☽☽
5 out of 5 moons
-Beth
May your shelves forever overflow with books! ☽
---
---