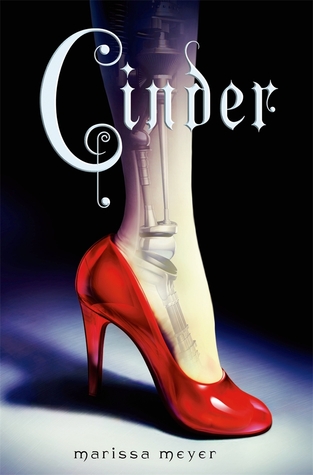 Sixteen-year-old Cinder is considered a technological mistake by most of society and a burden by her stepmother. Being cyborg does have its benefits, though: Cinder's brain interference has given her an uncanny ability to fix things (robots, hovers, her own malfunctioning parts), making her the best mechanic in New Beijing. This reputation brings Prince Kai himself to her weekly market booth, needing her to repair a broken android before the annual ball. He jokingly calls it "a matter of national security," but Cinder suspects it's more serious than he's letting on.
Although eager to impress the prince, Cinder's intentions are derailed when her younger stepsister, and only human friend, is infected with the fatal plague that's been devastating Earth for a decade. Blaming Cinder for her daughter's illness, Cinder's stepmother volunteers her body for plague research, an "honor" that no one has survived.
But it doesn't take long for the scientists to discover something unusual about their new guinea pig. Something others would kill for.
Has anyone noticed anything unusual recently? Yes, there hasn't been a book review for over a month. Because I have been reading Cinder for over a month. A month and two days, to be exact.
I went through most of this book thinking it was slow and boring. Hence the 4 week time-log. But I found it's one of those books that I like a lot more looking back on. It's definitely a mixed bag – and I'll try my best to explain why! Let's go through the things I didn't like about this book.
It was sooooo slowww…or at least I felt like it was! For me, the story was pretty focused around a certain VIP. And that guy just wasn't in the book for most of the story!
Cinder seemed a little…flat? I just couldn't sympathise with her. I mean, we all know how it feels when we don't belong somewhere. But I felt like that's all I knew about her. Her whole character just seemed to be this 'I don't know who I am and I don't belong here and I don't know what to do about it' bubble. Like, that was it.
I found it confusing. I didn't know about the characters, so to put it bluntly I didn't care either. I found Peony and Iko more props than people, more support for the storyline than actual characters.
Okay, so that is me being very critical and extremely brutal. So to finish off, let's talk about what I enjoyed!
The ending! I loved the dramatic parts of this book – and that only seemed to come towards the end of the novel.
Prince Kai! Even though we don't see much of him, I actually sympathised with him the most.
The intrigue and mystery. I loved not knowing what was happening with Cinder, and it was so exciting towards the end of the book to find out what was going to happen.
So overall, it was definitely mixed opinions about this book. I liked it and wanted to stop reading at the same time! But I have to admit…I did completely fall in love with the end of this book. To balance it out, it'll have to be…
☽ ☽ ☽ ☽
3.5 out of 5 moons
P.S. Thank you for 400 followers on this blog!
-Beth