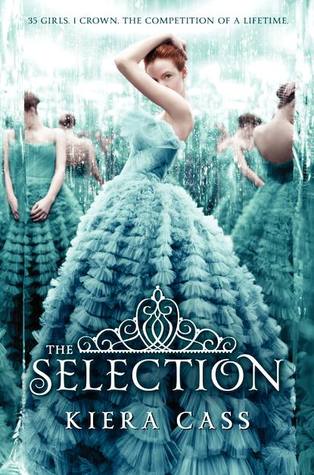 For thirty-five girls, the Selection is the chance of a lifetime. The opportunity to escape the life laid out for them since birth. To be swept up in a world of glittering gowns and priceless jewels. To live in a palace and compete for the heart of gorgeous Prince Maxon.
But for America Singer, being Selected is a nightmare. It means turning her back on her secret love with Aspen, who is a caste below her. Leaving her home to enter a fierce competition for a crown she doesn't want. Living in a palace that is constantly threatened by violent rebel attacks.
Then America meets Prince Maxon. Gradually, she starts to question all the plans she's made for herself—and realizes that the life she's always dreamed of may not compare to a future she never imagined.
I just saw a review on Goodreads that sounds exactly how I'm feeling about these books. They're like cookies that are really bad for you – you know you shouldn't like them because they're full of trash but you just can't help yourself by eating a whole packet in one sitting. Credit to Taneika for that one!
So right now, I'm feeling incredibly torn over this book. For one, I never thought I would like a book with a girl called America Singer. America. And talking of America, this girl tears me in half too. On one hand, she is so damn indecisive and I know it's going to annoy me a tiny bit throughout the whole series. But on the other hand, she has a kind and sensitive soul which shines through above all.
"I hope you find someone you can't live without. I really do."
I actually really enjoyed the caste system and world. It only has a small touch of fantasy and the palace and it's grounds are pretty well described. I actually enjoyed how the world and history was described. I would have loved a map in the front of the book, but the history lessons were through dialogue and actual lessons the Selected took part in. I didn't mind this, because it kept the lessons short and informative, rather than just long pieces of information.
"And I hope you never have to know what it's like to have to try and live without them."
Sure, this book was absolutely and utterly far from perfect. It should really be easy for me to say it was bad. But I can't help it, it was so trashy I loved it. It was the kind of TV you know you shouldn't watch but can't help it. It was so predictable, cheesy, fluffy and other wrong things that I should be hating on it. But I can't help it, these books are fun and quick to read and I have already read half of the second book.
Help me.
★★★
3 stars
-Beth
May your shelves forever overflow with books! ☽