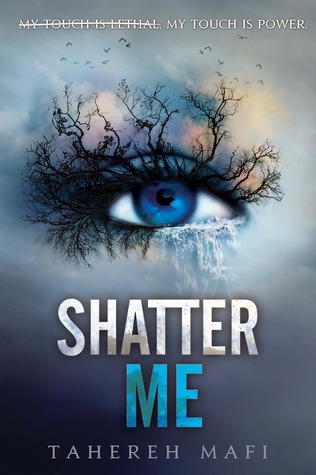 Juliette hasn't touched anyone in exactly 264 days.
The last time she did, it was an accident, but The Reestablishment locked her up for murder. No one knows why Juliette's touch is fatal. As long as she doesn't hurt anyone else, no one really cares. The world is too busy crumbling to pieces to pay attention to a 17-year-old girl. Diseases are destroying the population, food is hard to find, birds don't fly anymore, and the clouds are the wrong color.
The Reestablishment said their way was the only way to fix things, so they threw Juliette in a cell. Now so many people are dead that the survivors are whispering war – and The Reestablishment has changed its mind. Maybe Juliette is more than a tortured soul stuffed into a poisonous body. Maybe she's exactly what they need right now.
Juliette has to make a choice: Be a weapon. Or be a warrior.
Before I begin, thank you to the lovely Anna for pushing me to read this book! An old friend gave it to me for my birthday almost 2 years ago and it's taken me until now to finally pick it up. But I'm glad I did, because I enjoyed it so much that it took me under 2 days to complete.
"Raindrops are my only reminder that clouds have a heartbeat."
I think the thing I found most enjoyable about this book is it's so easy to read. The pages literally fly by, because after the first couple of chapters the pacing is steadfast. The short chapters left me wanting to just read another one, making Shatter Me a book I just couldn't put down. I also loved the cast of characters, from our clever villain to Adam's sweet little brother. Although Juliette was whiny and cliche, I couldn't help but understand her situation.
This book kind of reminded me of The Selection series in the ways it made me feel. The insta-love annoyed me a little as it was cringy, but I still couldn't help but enjoy reading about their story. I just wish I'd read this one a couple of years ago instead, because I would have loved it even more!
"That I have one, too."
Alongside some of the cringe, I had a few small issues I want to address. For one, why does Mafi not know about commas? I understand that this pushed forward the whole diary/notebook written aspect, but some sentences just really needed breaking up. It didn't bother me too much after a while, but if I didn't think it was intentional, it would have just looked unprofessional.
But niggles aside, I couldn't help but enjoy it. I've already ordered the second book and I can't wait to carry on with the series soon!
★★★★
4 stars
-Beth
May your shelves forever overflow with books! ☽
| Goodreads |Instagram | Tumblr | Twitter | YouTube | Facebook | Redbubble |