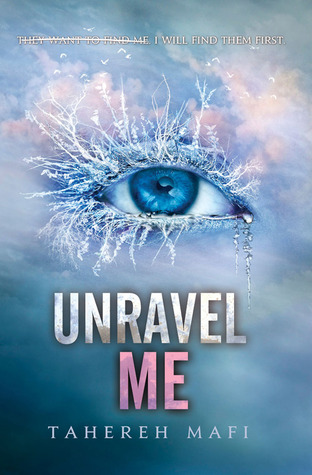 It should have taken Juliette a single touch to kill Warner. But his mysterious immunity to her deadly power has left her shaken, wondering why her ultimate defense mechanism failed against the person she most needs protection from.
She and Adam were able to escape Warner's clutches and join up with a group of rebels, many of whom have powers of their own. Juliette will finally be able to actively fight against The Reestablishment and try to fix her broken world. And perhaps these new allies can help her shed light on the secret behind Adam's—and Warner's—immunity to her killer skin.
Before I start – this review will include spoilers! I just don't think I can include all of my thoughts about this book without talking a bit about what happened, so be warned.
I want to say that I don't actually dislike love triangles. I wouldn't say I have an opinion on them either way, because it is possible that they can be done well. But in this book, no. Just no. I feel like I let my own feelings really seep into my opinion of this book, but it just felt so wrong. Juliette and Adam are perfect for each other. Warner is a murderer. I am determined to not let that get out of my head. There is just so much wrong with his character. He keeps making advances on Juliette without her permission. He touches her without her permission. He invades her personal diary without her permission. And as much as I understand he is persuasive and it makes Juliette confused, it's just wrong.
I just can't help but think that if anyone acted as Warner did in these books in real life, it would be morally wrong and she could easily press charges. He would be seen as a stalker and a creep. But because he's so hot and so good with words, she's suddenly confused. What the hell is wrong with her?
"The books…"
But as much as I absolutely despised the love triangle, I can't help but say I still really enjoyed reading this. I can't even begin to describe how talented Tahereh Mafi is. Her writing is beautiful, and thank God, she has discovered how to use a freaking comma. I really felt like the writing flowed more in this book, and I loveee the short chapters! I've had a busy week but I'm sure that if I'd had more time I'd have finished this in just a few short days!
"they helped keep me from losing my mind altogether."
So I'm definitely going to carry on with this series, but I feel like it was a major disappointment compared to the first book. I really enjoyed the first one, but even thinking about what I've just read makes me feel angry. Mafi is talented enough with her writing to make me want to continue, but I won't be holding my breath.
★★★
2.5 stars
-Beth
May your shelves forever overflow with books! ☽
| Goodreads |Instagram | Tumblr | Twitter | YouTube | Facebook | Redbubble |